Audi Q7 e-tron (2016-2019) range, MPG, CO2 & charging
The Audi Q7 e-tron has one of the best electric-only ranges of any plug-in hybrid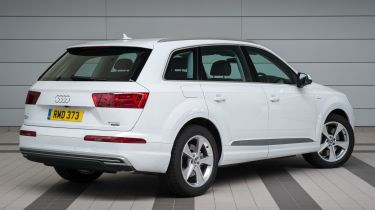 The Q7 immediately looks impressive on paper, with economy of up to 156.9mpg quoted by Audi, along with CO2 emissions of as little as 48g/km. The e-tron can travel up to 34 miles on electric power alone, and its batteries can be charged in as little as 2.5 hours. That was at least as good as any of its direct rivals when new.
Audi Q7 e-tron range, MPG & CO2 emissions
According to official tests – carried out under the latest WLTP standards – the Q7 can go up to 34 miles on electric power alone. That's an impressive figure, and a fair bit better than you get in the Q7's most obvious rival, the Volvo XC90 T8.
In addition to that, because the Q7 e-tron's engine is diesel (rather than a petrol), the Audi's overall range on both its power sources is equally impressive compared to its rivals: more than 800 miles.
Charge time
The Q7 e-tron was supplied with cables that give the option of charging from either a standard domestic socket, a wallbox or public charge point. The latter is a Mode 3, Type 2 cable; and, if you charge up your Q7 using this, the charge time should be only 2.5 hours for a completely flat battery.
However, if you have to charge the car from a three-pin domestic socket, that'll take up to eight hours. That may sound like a long time, but it does mean you can fully charge the car easily overnight, making it suited to short commuting journeys.
Battery warranty
Audi supplied no special warranty for the Q7 e-tron's battery or any of the components in the hybrid system, so everything is covered by the same three-year/60,000-mile warranty that comes with every new Audi.