Audi A6 Avant hybrid: estate model added to plug-in line-up
New estate version joins the A6 TFSI e saloon hybrid in ever-expanding Audi PHEV range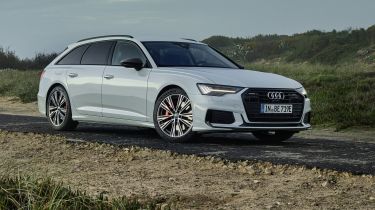 Audi has announced an Avant estate version of its A6 TFSI e plug-in hybrid executive saloon, giving the model an advantage over its BMW 530e competitor, which is currently not available in estate form.
The Audi A6 Avant 55 TFSI e will also rival the hybrid Mercedes E-Class Estate, although it uses a petrol-electric drivetrain, unlike the Mercedes' diesel-electric setup.
With a total combined power and torque output of 362bhp and 500Nm from its 2.0-litre TFSI engine and electric motor, the A6 Avant hybrid promises to return between 135-149mpg and emit 44g-48g/km of CO2 depending on specification – sufficient for 10% UK company-car tax in the 2020/21 financial year and exemption from the London Congestion Charge until October 2021.
A seven-speed dual-clutch automatic gearbox and Audi's quattro four-wheel-drive system are both standard. Audi is promising an electric range of just under 32 miles for the A6 Avant hybrid, which compares to between 28 and 30 miles for the Mercedes.
The same drive models seen on other plug-in hybrid Audis (including the Q5 and Q7 SUVs, and the A7 and A8 luxury cars) feature on the A6 Avant. These are 'EV' for driving purely on electric power, 'Hybrid' for letting the car work out the most efficient mix of engine and motor use, and 'Hold' for preserving charge in the battery for use later in your journey.
Also carried over from other electrified Audis is the MyAudi app, which gives owners remote control of the Avant's charging functions, allowing charging to be scheduled and the car's interior to be warmed up or cooled down ahead of a journey.
The car's 14.1kWh battery takes about two-and-a-half hours to charge at the maximum rate of 7.4kW (offered by some home wallboxes and all public charging points). 
The boot offers 405 litres of luggage space; less than the 565 litres available in a non-hybrid A6 Avant, although Audi points out the A6 TFSI e has a level boot floor – something which can't be said for the hybrid Mercedes E-Class Estate, which has a 480-litre luggage capacity, but also a box-shaped intrusion into the boot area.
An exact UK on-sale date and specification list for the plug-in hybrid A6 Avant has yet to be confirmed. In its home market of Germany, the car will be priced from €71,940 (approximately £62,000 at the time of writing) and come with an S line styling package, black styling package, privacy glass, Matrix LED headlights, four-zone air-conditioning, 19-inch alloy wheels and sports suspension as standard.
Top 10 best hybrid estate cars 2023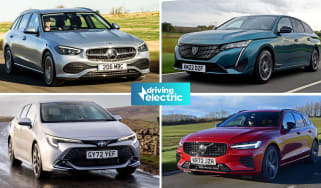 Top 10 best hybrid estate cars 2023
BMW i4 facelift to topple Tesla with huge range and tech upgrades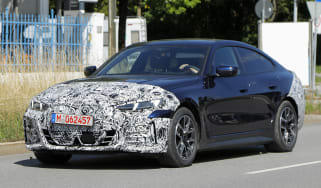 BMW i4 facelift to topple Tesla with huge range and tech upgrades
An updated version of the BMW i4 has been spotted testing, likely sporting a longer range and the latest technology
We've had a ride in the new electric MG Cyberster and it's NOT what we first thought…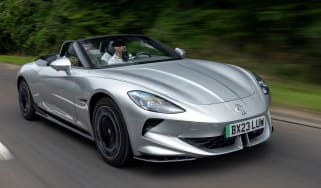 We've had a ride in the new electric MG Cyberster and it's NOT what we first thought…
The MG Cyberster is due to go on sale next year with up to 536bhp and scissor doors – and we've already had a ride in it