Audi A6 e-tron electric concept car: new electric-car platform unveiled
Audi debuts new Premium Platform Electric technology in the form of a luxury four-door concept car
Audi has unveiled an A6 e-tron electric concept at the 2021 Auto Shanghai motor show, using the car to debut its new 'Premium Platform Electric' (PPE). This will be used to underpin a series of both high-riding SUV and regular saloon, estate and 'Sportback' hatchback models – all fully electric like the A6 e-tron. 
The first production model using the PPE platform will be unveiled in the second half of 2022, but in the meantime Audi is giving us our first look at what a potential future luxury electric saloon – sitting alongside the Audi e-tron GT, Audi Q4 e-tron and original Audi e-tron in the brand's zero-emissions line-up – would look like
As with most electric cars, aerodynamics were a major factor in the design process of the A6 e-tron concept, with Audi achieving a drag coefficient of 0.22Cd, just behind the groundbreaking 0.20Cd figure laid down by the Mercedes EQS, which is now said to be the most aerodynamic production car in the world.
Audi's concept seems to have used every electric-car design trick in the book to achieve that figure; from covering the front grille, having a sweeping roofline and short bootlid and fitting cameras as opposed to conventional door mirrors. The striking A6 e-tron concept does carry some elements over from the current Audis, such as the distinctive 'Sportback' rear window shape normally reserved for the A7, as well as aggressive, chiseled Matrix LED headlights.
The headlights on the A6 e-tron concept are unlike those in any other car, though. They're fitted with a projector inside, so when charging, you and your passengers can play video games projected onto a wall outside, instead of sharing a screen inside. We don't know if this feature will ever reach production, but it's fair to say Audi might have found the one way to top Mercedes' Hyperscreen or Tesla's infotainment system.
The long wheelbase and short overhangs on the A6 e-tron concept have been used to maximise interior space and legroom for those inside – Audi points to this as one of many benefits of the new PPE platform. At the front of the car are a pair of enormous air intakes, which are used to cool the drivetrain, battery and brakes. The two electric motors in the A6 e-tron concept produce 462bhp and 800Nm of torque, with one on each axle.
Although it remains a concept at the moment, Audi is expected to launch a production version of the A6 e-tron in 2023. But how much of this design we'll see in the production model is unclear. Regardless, it should certainly be a strong contender for a place on our list of the best luxury electric cars. Audi already sells an electrified version of the standard A6: the plug-in hybrid TFSI e introduced in late 2020 that we rank as one of the best plug-in hybrids on sale. 
Audi Premium Platform Electric (PPE)
The 'Premium Platform Electric' is Audi's new mechanical platform for use in a variety of pure-electric vehicles from high-riding SUVs, as well as lower cars like saloons, estates and 'Sportbacks'. The technology has been jointly developed by Porsche, another Volkswagen group brand working hard on electrification. 
This new platform is designed to underpin primarily more expensive cars from premium brands, as opposed to the VW Group MEB platform, which sits under family hatchbacks like the Volkswagen ID.3 and upcoming Cupra Born, as well as the Volkswagen ID.4 and Skoda Enyaq iV. 
The first model to use the PPE platform will be unveiled in the second half of 2022. Both the battery size and wheelbase are scalable for different models, so the platform will be able to accommodate multiple powertrains and battery sizes, which Audi predicts could include models with up to 435 miles of range thanks to a 100kWh battery, and a 0-62mph time of under four seconds. Entry-level motors are predicted to take closer to seven seconds to go from 0-62mph.
Audi's PPE platform also features 800-volt charging architecture, as seen in the Audi e-tron GT, Porsche Taycan and Hyundai Ioniq 5. This will allow upcoming models to charge at up to 270kW. At that speed, Audi predicts PPE cars should gain 180 miles of range in just 10 minutes, or go to from 5-80% charge in under 25 minutes. However, you might have to wait a while to experience this for yourself, as there are currently only a few of the 350kW DC rapid chargers capable of these charging speeds operational in the UK.
Top 10 best plug-in hybrid cars 2022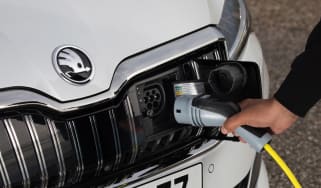 Top 10 best plug-in hybrid cars 2022
Plug-in hybrid cars are great for keeping fuel and company-car tax bills low. Here are the best ones to buy in the UK right now
Top 10 best luxury electric cars 2022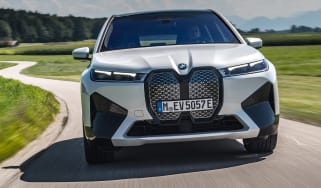 Top 10 best luxury electric cars 2022
From Audi to Tesla, here are our top picks of the most luxurious zero-emissions motoring options on the market right now
How much is the Benefit-in-Kind company-car tax on an electric car?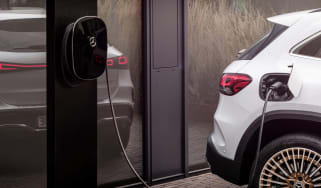 How much is the Benefit-in-Kind company-car tax on an electric car?
The company-car tax, or BiK, on electric cars is 1% during the 2021/22 financial year and will rise to just 2% in 2022/23, making a zero-emissions veh…