Audi A6 e-tron electric car: first spy shots of production version emerge
Audi has been testing the production version of the upcoming A6 e-tron executive car on and around the Nurburgring circuit in Germany
A production version of the Audi A6 e-tron mid-size executive car has been spotted testing by spy photographers (above) on the Nurburgring race circuit in Germany. Despite heavy disguise on the prototype, a split-headlight design can be made out, along with the car's distinctive 'fastback' roofline, which it shares with the current combustion-engined A7.
Audi previously unveiled a concept version of the A6 e-tron at the 2021 Auto Shanghai motor show (pictured below). This marked debut of the 'Premium Platform Electric' (PPE) technology that'll underpin a series of fully electric SUV, saloon, estate and 'Sportback' models. Audi's current electric line-up includes the e-tron and e-tron Sportback SUVs, the e-tron GT four-door grand tourer and the Q4 e-tron and Q4 Sportback e-tron family cars.
As with most electric cars, aerodynamics were a major factor in the design process of the A6 e-tron concept, with Audi achieving a drag coefficient of 0.22Cd, just behind the 0.20Cd figure of the Mercedes EQS, which is said to be the most aerodynamic production car in the world.
The A6 concept uses every electric-car design trick in the book to help it achieve that figure; from covering the front grille, having a sweeping roofline and short bootlid and fitting cameras as opposed to conventional door mirrors.
The headlights on the A6 e-tron concept also stand out. They're fitted with a projector, so when charging, the driver and passengers can play video games projected onto a wall, instead of sharing a screen inside. We don't know if this feature will reach production, but it's fair to say Audi might have found a way to top Mercedes' Hyperscreen or Tesla's infotainment system.
The long wheelbase and short overhangs on the A6 e-tron concept serve to maximise interior space and legroom – Audi points to this as one of many benefits of the PPE platform. At the front is a pair of enormous air intakes, used to cool the drivetrain, battery and brakes. The two electric motors in the A6 e-tron concept produce 462bhp and 800Nm of torque in total.
Audi Premium Platform Electric (PPE)
The 'Premium Platform Electric' is Audi's mechanical platform to underpin a variety of pure-electric vehicles, from high-riding SUVs to lower cars like saloons, estates and 'Sportback' hatchbacks. The technology has been jointly developed with fellow VW Group brand Porsche.
This platform is designed to underpin primarily more expensive cars from premium brands, as opposed to the VW Group's MEB platform, which sits under hatchbacks like the Volkswagen ID.3 and Cupra Born, as well as the Volkswagen ID.4 and Skoda Enyaq iV family SUVs.
Both the battery size and wheelbase are scalable for different models, so the platform will be able to accommodate multiple powertrains and battery sizes. Audi predicts models with up to 435 miles of range thanks to a 100kWh battery, and a 0-62mph time of under four seconds. Entry-level motors are predicted to take closer to seven seconds to go from 0-62mph.
Audi's PPE platform also features 800-volt charging architecture, as seen in the e-tron GT, and Porsche Taycan. This will allow upcoming models to charge at up to 270kW. At that speed, they should add 180 miles of range in 10 minutes, or go from 5-80% in under 25 minutes.
New Audi A6 Avant e-tron electric estate car concept unveiled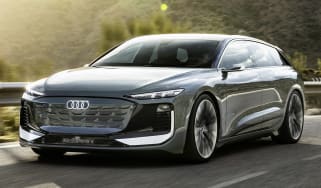 New Audi A6 Avant e-tron electric estate car concept unveiled
Volkswagen ID.3 facelift due in spring 2023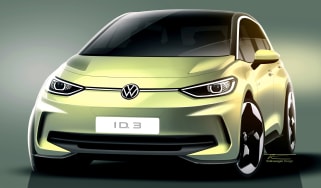 Volkswagen ID.3 facelift due in spring 2023
New sketches provide a glimpse at refreshed styling and cabin of Volkswagen's electric family hatchback
Tesla Semi truck showcases 500-mile range as first examples delivered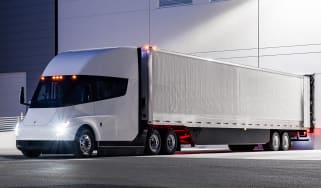 Tesla Semi truck showcases 500-mile range as first examples delivered
The Tesla Semi made its world debut in November 2017, and will become part of Tesla's own fleet