Should you lease or buy an electric car?
There are different ways to get behind the wheel of an EV, each with advantages and disadvantages. Here, we compare leasing (also known as Personal Contract Hire, or PCH) with buying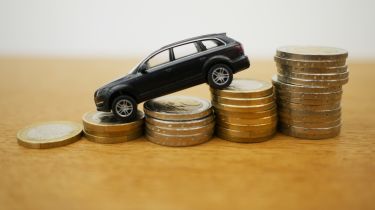 Few people can afford to splash out the total list price of a brand-new car every few years – and even if you could, any decent financial adviser will tell you it's not a good idea to tie all your cash up in a depreciating asset. Many buyers therefore spread the cost of a new car over a number of years, using one of the several finance options that dealers, manufacturers and third-party companies offer these days.
At the highest level, these can be divided into leasing and purchase options, with the former effectively serving as long-term rental agreements where you never actually own the car, and the latter offering a route to eventually owning the car outright should you want to (with the option to hand it back if you don't). So which makes more sense? There's no hard-and-fast right answer – both have plus and minus points that you have to consider before deciding which one is right for you.
We break down the positive and negatives of both below; once you've checked them out, don't forget to read our full guide to leasing an electric car and our round-up of current electric-car lease deals.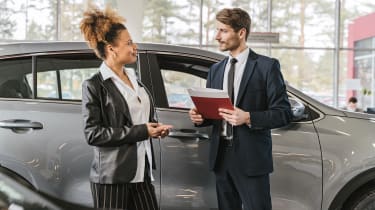 Advantages of leasing (also known as Personal Contract Hire, or PCH)
First and foremost, leasing has the advantage of being a very straightforward way of driving a new car. It's really a long-term rental agreement: you sign the deal and pay a set monthly amount over a certain number of years to use the car during that time. As long as you can keep up with the payments, you don't need to worry about depreciation, trade-in values or how you'll go about selling your car when it's time to change or upgrade.
When the term is up, you simply hand the car back, at which point you can start all over again with a fresh deal on a brand-new car. This means you can regularly swap into the latest model, so you don't have to worry about out-of-warranty repairs as a car gets older and you can always enjoy the most up-to-date in-car technology.
The latter point is an important one to bear in mind in the context of electric cars. The technology is still relatively young and advancing fast, with charging speeds, ranges and battery capacities improving significantly as new models are launched. Many will prefer being able to swap into the latest model a couple of years down the line with a minimum of fuss.
Disadvantages of leasing  (also known as Personal Contract Hire, or PCH)
With most lease deals, you need to factor in the cost of insurance and routine servicing on top of the monthly payments – although some manufacturers are beginning to offer all-in 'subscriptions' that bundle these in with your lease payments, too. The other thing to bear in mind is that at no point in the course of a lease deal do you own the car – and you have no option to buy at the end of the deal, either. Of course, that may not matter to you.
Leasing can sometimes be tricky for those doing high mileages. Generally, lease deals will have a maximum annual mileage limit, which you'll be charged extra for exceeding. This is because manufacturers and leasing companies need to have an idea of what the car will be worth at the end of the deal, and mileage is a major contributing factor to that figure. You can discuss your expected mileage with your dealer or leasing provider before signing up, but a significantly higher annual mileage limit could mean a higher monthly payment.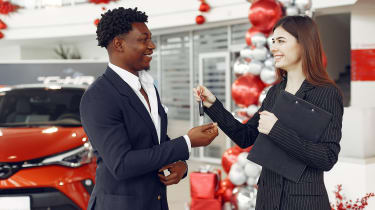 Advantages of buying (including Personal Contract Purchase and Hire Purchase)
Hardly anyone hands over a lump sum to buy a new car these days, but many take out a loan – from either their bank or one of the car manufacturers' finance arms – to cover the cost. In both cases, you can own the car outright; either straight away in the case of a bank loan, or after settling your finance at the end of your agreement in the case of brands' Personal Contract Purchase (PCP) or Hire Purchase (HP) plans. That's not an option if you decide to lease.
Partnership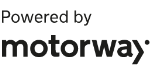 Need to sell your car?
Find your best offer from over 5,000+ dealers. It's that easy.
In addition, manufacturers can sometimes sweeten the deal if they have cars they're keen to shift, by offering low or even 0% interest over the course of a deal, or contributing to the deposit that often needs to be paid at the beginning. All this means PCP can make expensive premium cars more attainable than you'd think.
Disadvantages of buying (including Personal Contract Purchase and Hire Purchase)
With the exception of a few especially rare, high-end models, cars – unlike homes – tend to be depreciating assets. They lose a lot of their as-new value in the first few years on the road, before the depreciation curve eases off as they get older. The deposit and monthly payments of a PCP deal reflect this – you're basically paying for the amount the car decreases in value during the time you're using it.
The 'guaranteed future value' in these deals tells you how much the car is expected to be worth at the end of the agreement – at which point you can either pay that amount to take outright ownership, or hand the car back and start again with a new deal. And even if you've bought outright, or spread the entire cost of the car using Hire Purchase, you'll still absorb the cost of depreciation when you sell the car for much less than the original price – there's no getting away from it.
BMW i4 facelift to topple Tesla with huge range and tech upgrades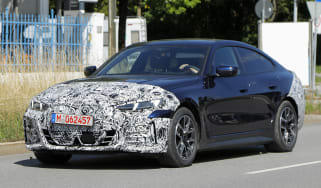 BMW i4 facelift to topple Tesla with huge range and tech upgrades
An updated version of the BMW i4 has been spotted testing, likely sporting a longer range and the latest technology
Electric BMW iX2 is set to take the kidney grille to the next level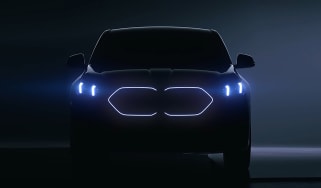 Electric BMW iX2 is set to take the kidney grille to the next level
BMW has teased the highly-rumoured iX2 coupe-SUV, which has been revealed to get enlarged illuminated kidney grilles