Electric car smart charging explained
What is smart charging – and is it worth the added cost of installation?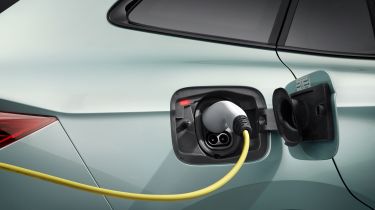 In a few years from now, smart charging will be the norm for anyone running an electric vehicle (EV) that takes its power from the national grid. In fact, without the benefits and opportunities that smart charging will ultimately provide, the government and industry agree that predicted levels of electric-vehicle growth would be unsustainable. So smart charging is here to stay, whether you like it or not.
Fortunately, there's a lot to like, because smart charging isn't just good for the planet, it's potentially good for your bank balance, too. The UK government is expected to announce soon measures to promote the uptake of smart charging for electric vehicles, under the powers of the Automated & Electric Vehicle (AEV) Act 2018.
It seems likely that smart chargers will soon be the only type you're allowed to install at home for your electric car. Indeed, since July 2019 the government's Office for Zero Emission Vehicles (OZEV) has limited its grant for home wallbox installation to people fitting smart chargers. So take-up of smart chargers is already increasing as drivers get to grips with the benefits.
Provided you choose the right smart charger, you can not only bag OZEV's £350 charger installation grant, but also access technology designed to manage your car's charging habits efficiently and cut your bills.
In the longer term, smart charging technology will in theory allow electric-car owners to profit from the energy stored in their batteries by selling it back to their energy provider at times of peak demand or low production. Effectively, it means electric-car owners can become part of a virtuous 'energy circle' in partnership with their energy provider and grid operators.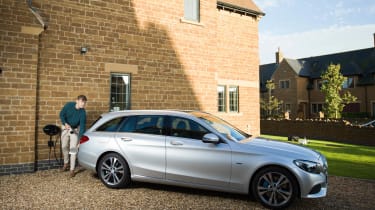 So how does smart charging work?
For the purposes of its consultation, the government defined smart charging as 'shifting the time of day when an EV charges, or modulating the rate of charge at different times, in response to signals (e.g. electricity tariff information)'.
In simple terms, smart chargers work because the car has a live data connection to the charger, and the charger has a live data connection to your tariff provider. This allows the car – or rather its driver, typically using a mobile phone app – to tell the charger how much battery reserve will be needed and when, each time the car is plugged in. So you can instruct the smart charger to 'fill her up' by 7am for your regular commute, or inform it you only need a 60% charge by 8.20am because you're only doing the school run tomorrow and working from home.
Because the smart charger knows your tariff provider's rates, it can deliver just the right amount of charge to your vehicle at the cheapest time. More advanced chargers like the Ohme Intelligent Wall Charger can sync automatically with your energy tariff – including to the potentially game-changing Octopus Agile tariff that tracks wholesale power costs on the grid, which change every 30 minutes. Other smart chargers work from more basic tariff information entered by the user. Either way, it's a more efficient way to charge than simply plugging in when you get home.
The other side of the coin is that energy providers can alter the rate and times at which your smart charger works, to suit the changing energy levels in the power grid and help to smooth out spikes and troughs in demand. However, this will never over-ride the essential parameters you set or leave you without juice when you need it.
Although the name is similar, the smart charger concept is therefore a bit different to the 20+million smart electricity meters that have been fitted to houses and businesses in the UK in recent years, which simply track your usage. To save on your household bill, you need to actively change your habits or usage patterns based on the information a smart meter provides, whereas a smart charger makes the decisions for you.
Depending on which charger you choose, and which electricity provider you use, you can even instruct your smart charger to pick the most environmentally friendly time to charge instead of the cheapest. For example, by specifying those times when the national grid's green-energy producers are working at their hardest relative to fossil-fuel stations.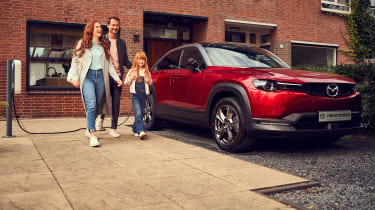 Why is a smart charger rollout considered essential at a national level? 
A recent trial that monitored the charging habits of almost 700 drivers highlighted the potential problems that millions of electric cars on our roads could cause for the national grid. Shared work and commuting habits create peaks of demand when everyone plugs in their charger at once – for example, after getting home from work on a Friday. With 'only' around 400,000 electric cars and plug-in hybrids currently on the road in the UK, those spikes in demand can be managed. It'll be a different story when the number of electric vehicles on our roads runs into the millions.
Of course, while all those drivers may plug in at once, the chances are they'll be connected to their chargers for many hours longer than they need to take on the required amount of charge. The idea is that smart chargers communicating with power providers will be able to help even out the peak in demand accordingly.
Another major issue that smart meters address is the production and storage of energy in a zero-carbon economy. Currently, if there's a surge in demand for electricity, the national grid can fire up a fossil-fuel generator to cover the spike. But as the UK must rely increasingly on renewable energy sources for electricity generation, what happens if the wind drops and the turbine blades slow or stop turning?
The answer, it's believed, will be the electricity stored in the millions of parked electric cars with their batteries connected via smart chargers to the grid. New 'vehicle to grid' (V2G) technology that's currently being trialled will allow smart chargers to momentarily feed power back to the grid, smoothing out troughs in supply or responding to peaks in demand when it's no longer possible to shovel coal into a generator furnace.
How much cash can you save with a smart charger right now?
Many of the future advantages of smart chargers – especially the V2G element – are not yet sufficiently developed to be rolled out. Although plenty of companies have run successful trials, it's likely to require some sort of concerted government or legislative effort to make things happen.
However, while you can't yet sell juice back to your energy company, there's every reason to take advantage of smart charging now. Estimates suggest electric car drivers could save an average of between £200 and £250 yearly on their charging costs by ensuring they only charge 'smartly' at peak times.
That's on top of the OZEV installation grant, which nowadays means having a more advanced smart charger fitted at home is likely to cost you less than getting a cheaper basic charger with no grant attached.
Where can I buy hydrogen and where is my nearest hydrogen filling station?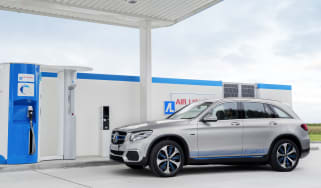 Where can I buy hydrogen and where is my nearest hydrogen filling station?
A guide to where you can find UK hydrogen fuel stations for filling up a hydrogen fuel-cell car
Tesla Supercharger network: complete guide to Tesla charging stations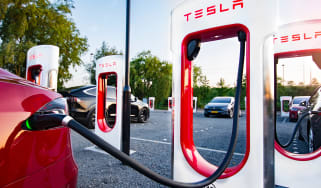 Tesla Supercharger network: complete guide to Tesla charging stations
The Tesla Supercharger network is expanding fast, providing reliable rapid charging throughout the UK to Tesla and non-Tesla owners alike
Top 10 best electric SUVs 2022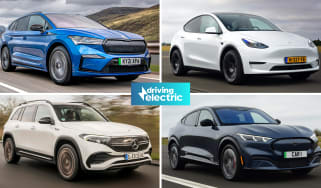 Top 10 best electric SUVs 2022
Electric SUVs combine style and practicality with low running costs, making them a very popular choice in the UK. Here are our top 10 favourites to bu…