What is Android Auto? The cars that have it and how it helps EV owners
Google's Android Auto smartphone integration software is very useful – here's why, and how to use it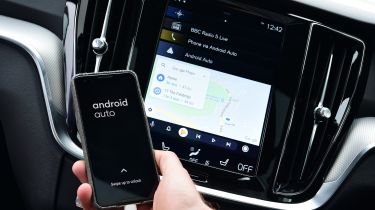 With smartphones such a massive part of everyday life and getting 'smarter' every few months, it's hard for car manufacturers to keep up with the latest developments. In 2020, it has become clear that lots of built-in music, sat-nav and phone integration systems are becoming outmoded by the powerful computers we carry around in our pockets.
That's where applications like Android Auto come in. Much like Apple's CarPlay system, Android auto allows for a degree of future-proofing in the infotainment department, offering hassle-free integration of your Android smartphone and a large, useful selection of its apps. It's free to use, but you need to pay for mobile data to use certain features.
The benefits for smartphone-using owners are numerous. Android Auto allows for hands-free phone calls, text messages (which are read out to avoid distraction), music streaming services like Spotify and – perhaps most crucially for electric -car users – Google Maps navigation. Voice-controlled Google Assistant is also supported on some cars.
In this day and age, Google Maps is one of the most powerful tools available for navigation – it has even become the industry standard for built-in systems in many high-end cars, including Volvo and Audi models.
It performs just as well on a decent phone, however, so if your car doesn't have built-in sat nav (but does have Android Auto) there's scope to go light on the options list, save some money and rely on Google Maps instead. The ease of use offered by both Android Auto and Apple CarPlay means DrivingElectric often recommends leaving the sat-nav box on the options list unticked.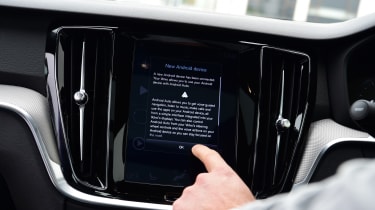 How does Android Auto work?
The vast majority of Android phones, such as those made by Samsung, OnePlus, LG, Sony, Nokia and Google itself, can run the Android Auto app. Many will have it installed as standard, but if not, it's a simple download from the Play Store.
You shouldn't have to select this app to start using it – simply plug in your phone with a USB cable and you'll be greeted with an Android Auto screen with some prompts to follow. You may need to navigate to the relevant part of your car's infotainment system, too – it's best to refer to the manual if you're unsure. 
One the connection is established, you'll be met with a home screen on the car's screen that's not too dissimilar to that of your smartphone. Virtual navigation buttons line the bottom of the screen, while a number of apps will appear in rows above. Not all apps work in Android Auto, so check for compatibility before downloading.
From here, you can select and use apps via your car's infotainment screen; depending on the model, this will be done via a touchscreen or an external dedicated control. 
Android Auto can also be set up to run on the phone's screen itself – useful if your car doesn't have an in-built infotainment screen. This allows you to use certain apps with minimal distraction and in a legal manner. Some cars, including the Volkswagen e-up!, SEAT Mii electric and Skoda Citigo-e iV family of city cars, come with a mount designed for this setup.
Using Google Maps via Android Auto
Google Maps is a great tool for electric-car and plug-in hybrid owners specifically. You shouldn't need to worry about finding somewhere to charge – Google Maps has a comprehensive list of just about every public charging point in the UK and abroad. 
For the best results, we recommend firing up the app on your phone first (while stationary) – this way you can make easier use of the search functionality, including narrowing results down by charger type. Find your preferred destination, press 'Directions' and then plug in your phone as above: Android Auto should load with Maps opened and ready to go. Or, if you prefer, you can simply search Google Maps within Android Auto – best achieved using voice commands to avoid slow typing.
Electric and plug-in hybrid cars with Android Auto
It's more or less the norm in today's car market to include both Android Auto and Apple CarPlay functionality, either as standard or on the options list. BMW and MINI products are a notable exception and are offered only with Apple CarPlay.
The majority of our favourite electric cars feature Android Auto – the Jaguar I-Pace, Audi e-tron, Mercedes EQC and Kia e-Niro all have the system as standard, as do plug-in hybrids from Hyundai, Peugeot, Ford and more. You're likely to see an increasing number of new models offer wireless Apple CarPlay functionality; Android Auto got this technology later, and it only works with select handset/car combinations.
Tesla is another exception to the rule, however – it uses its own high-tech proprietary infotainment system which generally integrates well with smartphones.
Polestar 2 now with 395-mile range and faster charging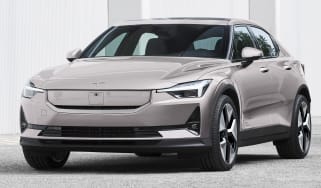 Polestar 2 now with 395-mile range and faster charging
The Tesla Model 3 rival gets major updates for the 2024 model year; order books open now, with prices starting from £44,950
Polestar 2 updated pictures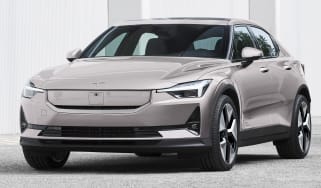 Polestar 2 updated pictures
Polestar 2 updated pictures