Complete guide to the MFG (Motor Fuel Group) EV Power electric-car charging network
Motor Fuel Group plans to install more than 3,000 ultra-rapid 150kW and 350kW chargers across the UK by 2030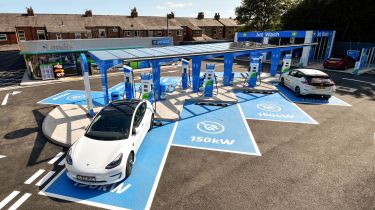 Motor Fuel Group (MFG) operates forecourts across the UK, as well as its own public charging network called EV Power. So far MFG has installed charging points at over 100 locations, including more than 200 rapid and ultra-rapid chargers, and as of January 2023, all locations can be accessed via the Shell Recharge app.
MFG's EV Power network features a mixture of 'dual-fuel' locations (with charging points alongside petrol and diesel pumps at existing forecourts) and new EV-only charging hubs that just feature electric-car charging points. MFG says its strategy over the coming decades will continue to focus on both types of sites.
Those aforementioned MFG hubs consist of between four and eight 150kW chargers, which can add up to 100 miles of range in approximately 10 minutes, subject to the charging capability of the car being topped up. The company says these will be augmented with 350kW chargers in future as battery technology improves.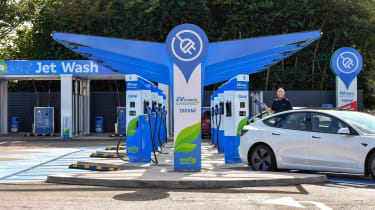 The company does not require any sign-ups or subscription to use its chargers. Users can pay with a contactless card or using a smartphone app, and as of December 2022 MFG charges 79p per kWh for charging at all its stations. A map of existing stations can be viewed in the MFG EV Power app.
All MFG chargers use certified 100% renewable energy and now accept Zap-Map's in-app payment service Zap-Pay. MFG also recently announced a partnership with Shell Recharge, allowing users to access MFG chargers from the Shell app. MFG's sites feature on Bonnet, too; the innovative charge-point aggregator was voted Best Electric-Car App in the 2023 DrivingElectric Awards.
MFG opened its flagship charging hub in Putney, London, in October 2021, featuring eight 150kW charging points, in addition to several petrol pumps and other conveniences for drivers. The company says it plans to invest £400 million in 150kW and 350kW chargers, aiming to install more than 3,000 of these points at roughly 500 sites across the UK by the end of 2030. Martin Symes, Operations Director, EV Network at MFG, recently commented: "MFG EV Power is excited to have a pipeline of amazing sites to add in 2023."
According to MFG, in England over 60% of dwellings in cities and urban areas don't have garages or other off-road parking options, and as a result residents of those properties will need to recharge their cars or electric vehicles from publicly accessible networks.
First contact: facelifted Kia EV6 will look even more like a UFO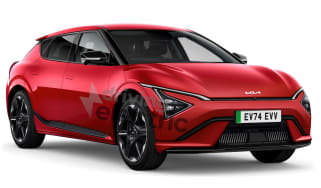 First contact: facelifted Kia EV6 will look even more like a UFO
Kia is readying an update for the EV6 crossover, which is set to include a new face and tech from the larger EV9
New Fisker Ocean Sport washes up in the UK: £36k for a 288-mile range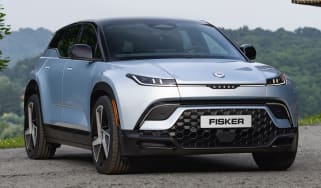 New Fisker Ocean Sport washes up in the UK: £36k for a 288-mile range
American EV startup Fisker has just launched its entry-level Ocean SUV in the UK, with a range of up to 288 miles
Electric Renault Twingo revealed as £17k rival to Citroen e-C3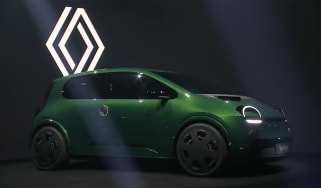 Electric Renault Twingo revealed as £17k rival to Citroen e-C3
Renault has unveiled its smallest EV yet; a sub £20k city car with a claimed high level of efficiency