Volkswagen Passat GTE costs, insurance, warranty & tax
Running a VW Passat GTE should be very cheap, especially if you're a company-car user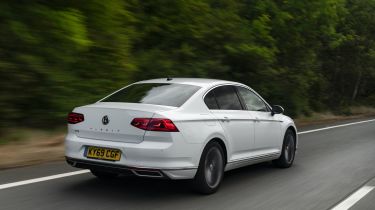 | Insurance group | Warranty | Service interval | 2021/22 company-car tax cost (20%/40%) |
| --- | --- | --- | --- |
| 26-28 | 3yrs / 60,000 miles | 1yr / 10,000 miles | From £823 / £1,645 |
The Volkswagen Passat GTE is all about low running costs. If you charge up regularly, then any short trips can be done on electric power alone. A full charge of the battery should cost around £1.80 at home, and you should be able to get over 30 miles without the engine even starting up.
Plus, the 1.4-litre petrol engine is reasonably economical on its own, returning about 40mpg. It's not as good as a diesel Passat on the motorway but regular charging should negate that.
Volkswagen Passat GTE insurance group
The entry-level Passat GTE sits in insurance group 26 and the higher-spec Advance model is in group 28. It's a little more expensive to cover than petrol and diesel models, but the running costs are low and the GTE is a surprisingly fast car.
Warranty
All Volkswagens get a three-year/60,000-mile warranty covering mechanical faults, which is average for the class. The battery is covered by a separate warranty, running for eight years or 100,000 miles, whichever comes first.
Servicing
There are a couple of options for Volkswagen service plans with the Passat. You can choose the Fixed Service plan if you're planning to do less than 10,000 miles a year, or the Flexible Service plan if you do lots of miles in a short space of time. Your dealer can advise of the cost.
Road tax
The Passat GTE costs nothing to tax for the first year, and £145 a year after that. The higher-spec GTE Advance just sneaks in under the £40,000 mark, so it avoids the surcharge of £335 a year the first five times the tax is renewed. Low company-car tax is a big plus point: the Passat GTE emits just 28-31g/km of CO2, so during the 2021/22 financial year, a 20% taxpayer will pay the equivalent of just £823 annually in Benefit-in-Kind.