Volkswagen Passat GTE range, MPG, CO2 & charging
Impressive official numbers will be tough to replicate in the real world, but the VW Passat GTE is reasonably competitive with rivals in most respects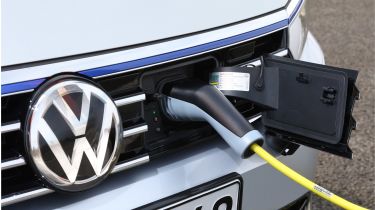 | Fuel economy | CO2 emissions | Electric range | Wallbox charge time |
| --- | --- | --- | --- |
| 217-235mpg | 28-30g/km | 36-37 miles | 3hrs 30mins (0-100%, 3.6kW) |
An official fuel-economy figure of 217 to 235mpg looks astonishing at first, but when you remember that the Passat GTE is a plug-in hybrid, it makes more sense. It's possible to drive the car without using a single drop of fuel if you only ever do short journeys, although there'd be no reason to buy it over a fully electric car if you did that.
In reality, you can expect around 40mpg from the 1.4-litre turbocharged petrol engine once the battery is empty. Charge up more often and you'll spend less money on petrol. You can charge the battery using the engine, but it's cheaper to top up using a plug.
Volkswagen Passat GTE range, MPG & CO2 emissions
The Passat GTE uses a 13kWh battery, which means it has an all-electric range of up to 37 miles officially. We'd plan for around 30 miles in the real world, and less if you're mostly driving on the motorway.
Plus, cold weather can cause that to drop even more. We've seen around 22 miles of range on winter days in Passat GTE test cars – although we were pleased to see that the gauge was accurate and we did indeed get 22 miles from the battery in the end.
Charge time
The Passat's relatively small 13kWh battery means that a full charge only takes around five hours and 40 minutes from a three-pin power socket, so topping up overnight will never be an issue, even if you don't get a dedicated home wallbox charger installed.
Since the GTE can only ever charge at a rate of 3.6kW, public chargers aren't any quicker than a home wallbox. Both will fill the battery in around three-and-a-half hours. A charge at home on an average electricity tariff will cost you about £1.80.