Volkswagen Passat GTE performance, engine, top speed
The VW Passat GTE is smooth and comfortable, but powerful plug-in hybrid drivetrain means it's also pretty fast, if not very involving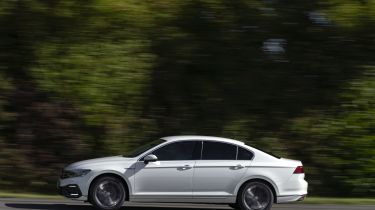 | 0-62mph | Top speed | Driven wheels | Power |
| --- | --- | --- | --- |
| 7.2s | 138mph | Front | 215bhp |
The Volkswagen Passat GTE is good to drive: it strikes a good balance between being fun and comfortable. There's not too much body roll in corners, yet it rides smoothly over bumps and potholes for the most part.
When you start the car up, it automatically goes into E mode and drives on electric power alone. If you switch to Hybrid mode, or the battery runs out, the GTE uses the engine and in conjunction with the electric motor. The transition is pretty seamless, as the engine is quiet and smooth.
In Hybrid mode, if you have juice left in the battery, the car will prioritise running in electric-only mode up to around 40mph. Above that the engine takes over more of the work. This is the most efficient mode on a longer trip.
If you want to get the most performance out of the car, there's also GTE mode, where the car uses both propulsion methods to the maximum. This makes it pretty fast in a straight line, but the Passat isn't a sporty car to begin with – a BMW 330e is more fun to thread down a twisty road.
Volkswagen Passat GTE 0-62mph, top speed and acceleration
The Passat GTE goes from 0-62mph in 7.2 seconds and up to a top speed of 138mph. However, in electric-only mode the top speed is 87mph – still more than enough for any road in the UK.
The power generated from the 1.4-litre turbocharged petrol engine and electric motor working together is 215bhp, but as the car is quite heavy, it's not as exciting as that might sound. In fact, that's true of the whole car; although the GTE name hints at a connection to the Volkswagen Golf GTI hot hatchback, the truth is that the Passat GTE is an ordinary saloon car that happens to be nippy in a straight line.
Handling
Even though the Passat GTE isn't very sporty, that's not to say it's no fun at all. There's not much body roll and the steering is light and accurate, so it's satisfying to drive down a country road.
Some big bumps and potholes are noticeable inside, but on the whole the Passat is smooth, comfortable and relaxed. It's really at its best on the motorway, where it's a very soothing car to cruise along in.