New Toyota Mirai Concept hydrogen car revealed
Concept version of next-generation Toyota Mirai hydrogen car has been revealed at Tokyo Motor Show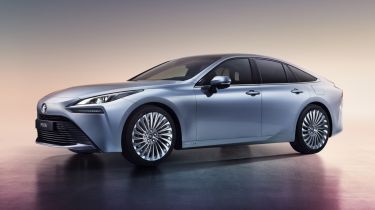 A new Toyota Mirai Concept was revealed at the Tokyo Motor Show in 2019, showcasing an eye-catching design and cutting-edge hydrogen fuel-cell technology that's set to feature on a second-generation production model later in 2020.
Toyota says improvements to the system's performance and its hydrogen storage capacity will deliver a range boost of 30%: the current Mirai returns around 300 miles to a tank.
As the concept is based on the company's Toyota New Generation Architecture (TNGA) platform, smoother acceleration, better handling and increased passenger comfort are also promised.
"We have worked to make a car that customers will want to drive all the time, a car that has an emotional and attractive design and the kind of dynamic and responsive performance that can bring a smile to the driver's face," said the Mirai's chief engineer, Yoshikazu Tanaka.
He continued: "I want customers to say 'I chose the Mirai because I simply wanted this car, and it just happens to be an FCEV.' We will continue our development work focusing on that feeling, and we hope that with the new Mirai we will be a leader in helping to realize a hydrogen energy society."
The new Mirai will measure 4,975mm long, 1,885mm wide and 1,470mm high. The wheelbase will be 2,920mm.
The first-generation Mirai was launched in 2014, and Toyota says 10,000 examples have been sold across the globe since then. The second-generation car – previewed by this Mirai Concept – looks set to hit showrooms late in 2020, with the manufacturer targeting Japanese, North American and European markets first.
Toyota's TNGA chassis has given the company greater flexibility with the Mirai's exterior design: the lower, tauter lines give the car a sleeker appearance, with bolder proportions thanks to 20-inch alloy wheels.
The front grille is cleaner and more distinctive than that of the current model, while the rear looks more purposeful, too. Inside, the interior design takes a huge leap forward with a premium-feeling cabin.
A 12.3-inch screen and digital instrument display are joined together in a single unit on top of the dashboard, with buttons on the steering wheel and centre console to control numerous functions. The TNGA platform has also allowed Toyota's engineers to include five seats, up from the four in the existing car.
Toyota says other benefits of TNGA include more body rigidity, a lower centre of gravity and rear-wheel drive, which should lead to better handling more driver enjoyment.
"We plan to launch new generation Mirai by end of 2020," confirmed Toyota's executive vice-president and chief technology officer, Shigeki Terashi. "Production capacity will be further enhanced for the launch to take FCEVs to the next stage."
Welcome to the all-new DrivingElectric website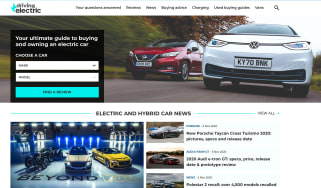 Welcome to the all-new DrivingElectric website
DrivingElectric has an all-new look; faster and easier to use, it's still your ultimate guide to buying and owning an electric car
Hyundai Kona Electric facelift images 2020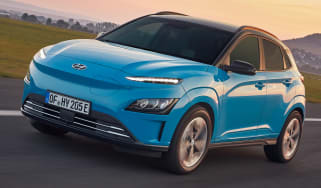 Hyundai Kona Electric facelift images 2020
Pictures of the facelifted Hyundai Kona Electric
New Cupra Leon e-Hybrid on sale now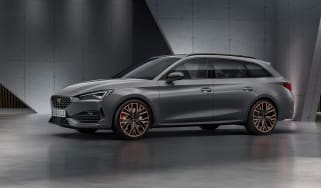 New Cupra Leon e-Hybrid on sale now
New Cupra Leon e-Hybrid gets 242bhp, 32-mile range and bold styling; prices start at £34,495