Toyota Camry Hybrid MPG & CO2 emissions
The Toyota Camry Hybrid's emissions and economy are on par with other hybrids, but no match for plug-in rivals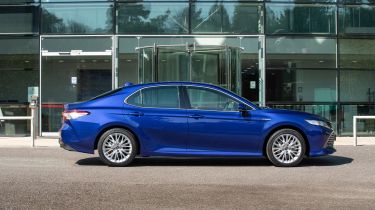 | MPG (combined) | MPG (high) | MPG (low) | CO2 emissions |
| --- | --- | --- | --- |
| 50-53mpg | 57-60mpg | 46-47mpg | 120-125g/km |
As it features the latest iteration of Toyota's petrol hybrid technology, the Camry is impressively efficient on its own terms for a large, four-door saloon. However, it's beaten in this respect by plug-in hybrid rivals.
Toyota Camry Hybrid MPG & CO2 emissions
CO2 emissions for the Camry Hybrid are pretty straightforward: the entry-level Design model emits 120g/km, while the range-topping Excel's figure is slightly higher, at 125g/km, due to its larger alloy wheels. So stick with the Design if you want the lowest company-car costs.
Fuel economy doesn't vary much between the two versions – you should see something in the region of 50mpg in varied everyday driving, and perhaps a bit less if you're doing a lot of high-speed motorway driving. The Camry is at its most efficient around town, where it can use electric power for more of the time.
The Ford Mondeo Hybrid is perhaps the Camry's most direct rival on the market right now, and there's little to choose between them when it comes to efficiency figures: the Mondeo emits 129g/km of CO2, but is expected to return slightly poorer fuel economy than the Toyota.
Forthcoming plug-in hybrid saloons like the Skoda Superb iV and Volkswagen Passat GTE will have significantly better MPG and CO2 numbers, however, and will make more attractive company-car prospects as a result.