Toyota Camry Hybrid reliability & safety rating
Toyota is a byword for reliability, but the Camry Hybrid has yet to go through independent crash-testing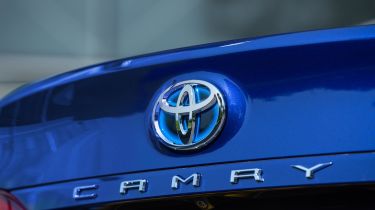 Toyota's reputation for producing reliable cars precedes it, so it's safe to assume there won't be any major issues with the Camry. The company produces not far off a million examples of the car each year for markets around the globe, many of which cover huge mileage without issue.
On the safety side, there's no Euro NCAP independent crash-test rating for the car yet, but both trim levels get a suite of safety kit under the 'Toyota Safety Sense' banner.
Toyota Camry Hybrid reliability & problems
Toyota in general – and Toyota's hybrid technology in particular – has proved extremely reliable over the years, with many examples of the Prius doing heavy duty as private-hire cars in cities around the world. We don't have specific reliability data on the Camry just yet, as it's a pretty new arrival to the UK market.
Safety
Euro NCAP hasn't independently evaluated the crash performance of the Camry yet, either, but Toyota will have tested it extensively during development. You also get a wide range of on-board safety kit, much of it intended to prevent a crash happening in the first place.
The 'Toyota Safety Sense' package, standard on both the Design and Excel trims, incorporates pedestrian detection, adaptive cruise control, lane-departure warning, road-sign assistance and automatic high-beam headlights. Excel adds blind-spot and rear cross-traffic monitoring functions for an extra level of backup.