Rolls-Royce Spectre: luxury brand's first electric car to arrive by 2023
The British luxury-car brand will become electric-only by 2030 and its first zero-emissions model will begin real-world testing shortly
Rolls-Royce has confirmed its first electric car will be called the Spectre and go on sale towards the end of 2023. In addition, the British luxury-car brand will transition to solely producing electric cars by 2030. CEO Torsten Müller-Ötvös said: "Our designers and engineers have worked relentlessly to bring us here: we are now ready to commence road testing of the first all-electric Rolls-Royce in history."
The Spectre will represent the culmination of over 10 years' research and development, with global testing expected to cover 2.5 million kilometres, simulating 400 years of real-world use. Müller-Ötvös added: "You will see these test cars on roads around the world. Look out for them – they'll be in plain sight. They'll be tested in all conditions and over all terrains on their multi-million-mile journey – which will literally accelerate Rolls-Royce into the future."
The Spectre will use the brand's own technical architecture, as opposed to sharing a platform with any of parent company BMW's electric offerings. According to Müller-Ötvös: "Free of any group platform sharing strategy, we were able to integrate our plans for an electric powertrain into the architecture's initial design and ensure that this extraordinary new product meets the extremely high expectations of our clients."
Other than its name, Rolls-Royce has yet to disclose any details about the Spectre, including its battery size, the number of electric motors or any range or performance estimates. However, the sweeping roofline of the camouflaged prototype in the pictures suggests the Specture will have a closer resemblance to the Rolls-Royce Wraith coupe than the Phantom limousine or Cullinan SUV.
Rolls-Royce has some form when it comes to battery-electric vehicles (BEVs), given the company founders' passion for electric cars. Sir Henry Royce supposedly considered fitting an electric powertrain in its first cars – although elected not to due to range and charging issues at the time. Meanwhile, Charles Rolls acknowledged the advantages of an electric powertrain in 1900, saying: "The electric car is perfectly noiseless and clean. There is no smell or vibration, and they should become very useful when fixed charging stations can be arranged."
Rolls-Royce has dipped a toe in these waters before, however: 10 years ago, the brand took the wraps off the Rolls-Royce 102EX (pictured below), also known as the Phantom EE (Experimental Electric): a prototype zero-emissions version of its flagship limousine.
In place of the 6.75-litre V12 found in the petrol-powered Phantom at the time was a 71kWh battery and two electric motors powering the rear wheels, producing 389bhp and 800Nm of torque. But while the electric Phantom prototype was an impressive concept car at a time when many makers were yet to jump on the EV bandwagon, it could only cover 124 miles on a charge and the battery had a lifespan of just three years.
Then, there was the Rolls-Royce Vision Next 100 (pictured above): an extremely over-the-top idea of what luxury motoring will be like in the next century. While its styling was extravagant to say the least, it still featured an electric powertrain and autonomous driving capabilities, which are becoming more and more present in the current crop of exclusive electric cars, and so could be a feature of a future electric Rolls-Royce.
Top 10 best seven-seater electric and hybrid cars 2021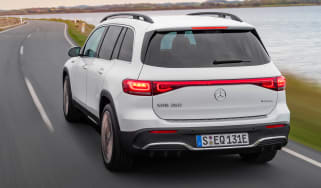 Top 10 best seven-seater electric and hybrid cars 2021
If the regular crop of electrified SUVs and family cars don't provide enough practicality for you, then take a closer look at the range of electric an…
EV36Zero and Nissan's road to carbon neutrality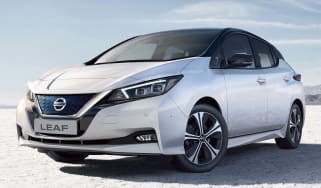 EV36Zero and Nissan's road to carbon neutrality
How the EV36Zero hub in Sunderland is set to take Nissan a step closer to its sustainability goals
Top 10 best luxury electric cars 2021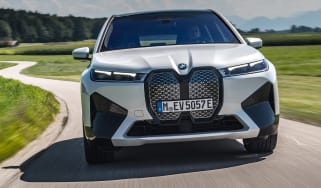 Top 10 best luxury electric cars 2021
From Audi to Tesla, here are our top picks of the most luxurious zero-emissions motoring options on the market right now