BMW iX vs Audi e-tron Sportback: performance and handling
It's another clear win for the BMW here – the iX is quieter, more comfortable and better handling than its rival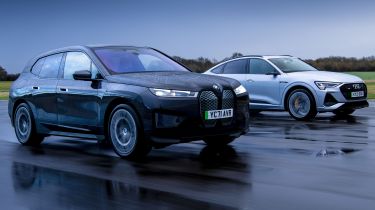 BMW has always prioritised driving enjoyment highly in its cars, and its electrified efforts to date – the i3 city car and plug-in hybrid i8 sports coupe – haven't let the side down in that respect. The iX runs BMW's fifth-generation 'eDrive' electric-motor technology, which incorporates innovations to ensure it gives a strong response at higher speeds as well as when you take off from a standstill.
The xDrive40 we're testing makes a healthy 322bhp, but if that's not enough, the more expensive xDrive50 ups power output significantly to 523bhp (as well as running a bigger battery for greater range). Setting off, the first thing you notice is how quiet the BMW is – and we don't mean in comparison to a petrol or diesel-engined car. Most EVs emanate some degree of whirr or whine when you accelerate, but the iX truly is silent, unless you choose to turn on the piped-in synthesised sounds that are synchronised to the car's movements.
Road roar and wind noise have been almost completely eliminated, too, which is quite remarkable when you consider our test car was running on 22-inch alloy wheels wrapped in 275-section tyres. You only hear the occasional distant thud as the suspension deals with larger pothole or bump, and it's very good at dealing with them, too: the iX has a suitably luxurious, limousine-like ride quality on even poorly surfaced roads.
So the iX is comfortable, then – but is it also good to drive? The short answer is yes, despite its hefty two-tonne-plus weight. The steering is well weighted and very precise; even more so than in BMW's big combustion-engined SUVs the X5 and X7. Grip is strong and body lean is well controlled through corners.
The aforementioned 322bhp power output ensures the iX never feels short of oomph, but plenty of travel in the throttle pedal means it's also easy to meter out the power for those occasions when you don't want full-bore acceleration. Simply put, the BMW is probably the best-handling electric SUV you can buy right now.
The e-tron Sportback, meanwhile, has a higher maximum power output than the iX (402bhp), but weighs 235kg more. Its 5.7-second 0-62mph time is faster than the BMW's on paper, but the latter car's sharper throttle response means it feels quicker and livelier in most day-to-day driving situations.
The Audi is also not as good at disguising its bulk as the BMW, always feeling nose-heavy when you turn into a corner and running out of grip sooner during hard cornering. And while the e-tron set the standard for comfort, noise suppression and ride quality at the time of its launch, the iX has now moved the game on. The Audi is certainly not uncomfortable, but it's no longer class-leading in this area, feeling just a little bit crashier and bouncier than the other German car over broken or undulating roads.