BMW iX vs Audi e-tron Sportback: running costs and warranty
Greater efficiency and stronger predicted residual values sway it for the BMW here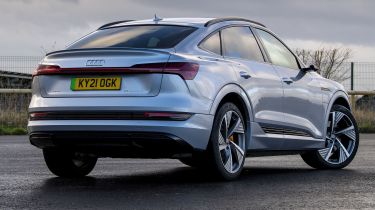 Both of these cars will of course be significantly cheaper to run than their makers' equivalent large petrol and diesel-engined SUVs – but as electric cars become the mainstream, that fact alone will no longer be sufficient, with efficiency set to be a key battleground in winning sales.
Very simply, the iX is the more efficient of the two cars, and by a noticeable margin. So you'll get more miles of driving for every kWh of electricity fed into its battery, resulting in a lower 'pence per mile' figure for the BMW contender.
In addition to its superior efficiency, the BMW also comes up trumps for other ownership costs. The brand offers an appealing £15-a-month, three-year servicing plan for its fully electric models, which compares favourably with Audi's £32-a-month, two-year deal. In addition, industry experts expect the iX to hold its value better than the e-tron Sportback: it's predicted to be worth nearly 62% of its new price after three years on the road, which is nearly 9% more than the equivalent figure for the Audi.
When it comes to company-car tax, there's little to separate this pair. Like all zero-emissions vehicles, they currently fall into the 2% Benefit-in-Kind (BiK) band – and will do so until at least April 2024. That sees a higher-rate income-tax payer shell out just £291 a year to run an iX as a company vehicle, compared to £316 for the Audi. The equivalent fee for combustion-engined models of similar value would be over £10,000.