BMW iX vs Audi e-tron Sportback: verdict and specifications
It's a clear win for the BMW iX here, which bests the Audi e-tron Sportback in almost every area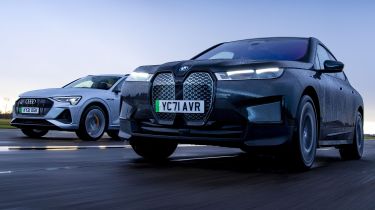 This twin test has served as a very clear illustration of how quickly electric-car technology and design are advancing. While the e-tron was an impressive contender at the time of its launch, it and other cars like it built on combustion-engine platforms are starting to be eclipsed by a new generation of EVs that sit on dedicated electric architecture. Admittedly, the iX's looks could be an insurmountable barrier for some, but under its curiously shaped metal it's an extremely impressive and accomplished luxury electric SUV.
1st: BMW iX – 4.5 stars
The iX is a stunning achievement for BMW and bodes well for future electric models from the brand. It's very refined and comfortable, has a powerful and efficient drivetrain, boasts excellent in-car technology, has plenty of space for passengers and luggage and – perhaps most importantly for a BMW – handles well, too. For those with plenty of cash to spend, it's a close-run thing between the iX and Porsche Taycan for the title of 'best electric car you can buy right now'. Read more in our full review.
2nd: Audi e-tron Sportback – 3.5 stars
It seems like only yesterday that the Audi e-tron was the impressive new kid on the electric SUV block, but automotive development is moving fast these days. Many will prefer the Audi's more traditional looks, and it has the edge over the BMW for practicality, but when it comes to vital areas such as range, efficiency, on-board technology, comfort and handling prowess, the e-tron Sportback is simply outclassed here. Read more in our full review.
Specifications
Make, model and trim

BMW iX xDrive40 M Sport

Audi e-tron Sportback 55

Starting price / price as tested

£72,905 / £84,845

£79,960 / £97,625

Motors

Dual electric motors

Dual electric motors

Transmission

Single-speed, 4WD

Single-speed, 4WD

Battery capacity
(total / usable)

76.6 / 71kWh

95 / 83.6kWh

Power / torque

322bhp / 630Nm

402bhp / 664Nm

0-62mph

6.1 seconds

5.7 seconds

Top speed

124mph

124mph

Annual charge cost
(12k/20k miles)

£688 / £1,447

£983 / £1,638

Charging time
(7kW wallbox / 150kW rapid)

10hrs 45mins (0-100%) / 31mins (10-80%)

14hrs (0-100%) / 30mins (20-80%)

Official electric range

254 miles

261 miles

On-test efficiency / predicted range

3.0 miles/kWh / 230 miles

2.1 miles/kWh / 176 miles

Road tax / BiK rate 

£0 / 2%

£0 / 2%

Length / width / height / wheelbase

4,953 / 1,967mm / 1,695 / 3,000mm

4,901 / 1,935 / 1,616 / 2,928mm

Boot capacity (seats up/down)

500 / 1,750 Iitres

615 / 1,665 litres