BMW iX vs Audi e-tron Sportback: range and charging
The iX comprehensively outclasses the e-tron here, getting much closer to its manufacturers' claimed range number in real-world driving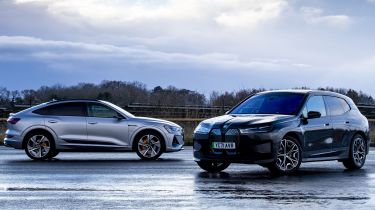 The 55 Sportback is the longest-range variant of the Audi e-tron you can buy, as the more powerful e-tron S sacrifices some range in favour of greater performance. Claimed maximum for the 55 in official testing is 261 miles – an increase on the initial figure at launch thanks to some technical improvements made since then.
Air suspension is standard on all e-trons; the S line spec of our test car brings a slightly sportier setup. The car's ride height changes based on what drive mode you've selected, dropping as low as possible to minimise drag and boost range in the 'Efficiency' setting. Despite that, we couldn't get near the Audi's official number during our time with the car: the average efficiency figure we saw of just over two miles per kilowatt-hour (kWh) translates to a real-world range of only 176 miles for the e-tron Sportback.
The iX is more impressive in this regard, showing how quickly battery and motor technology has advanced in just a few short years. Although its official range figure actually falls short of the Audi's, with 253 miles playing 261, it proved to be much more efficient in real-world driving than its rival, returning three miles for every kWh of energy used. That translates to about 230 miles on a charge – over 50 more than for the e-tron Sportback.
Charging
Both the BMW and Audi are capable of charging at up to 150kW, when plugged into a public rapid charger capable of that speed. Both will also get from near-empty to 80% full in half an hour if you do so. When it comes to home charging, these are two fairly large-battery cars, so if you're using a standard 7.4kW home wallbox, charging times are nearly 11 hours for the BMW and 14 hours for the Audi.
Both models offer an optional upgrade to 22kW on-board charging, but it only makes sense to do this if the house or other property where you'll be charging overnight has three-phase electricity – otherwise you'll still be stuck at a maximum speed of 7.4kW.