Hyundai Kona Electric vs Nissan Leaf: driving & performance
The Hyundai Kona Electric and Nissan Leaf are closely matched, with strong 0-30mph figures ideal for urban driving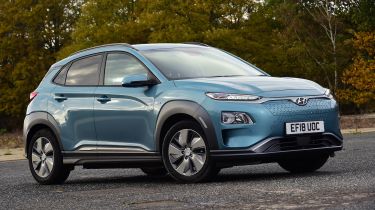 Once again, our two all-electric rivals are closely matched when you get them out on the road. The Nissan Leaf's 148bhp output is more than the Hyundai Kona Electric's 134bhp, but the Nissan has less torque, at 320Nm to the Kona's 395Nm.
Our 0-30mph city sprint test revealed that the Leaf is strongest off the line, taking 2.9 seconds to the Kona's 3.2 seconds. The straight-line performance of both cars trailed off as they headed towards 60mph. The 0-60mph sprint took 7.8 seconds in the Leaf and 8.6 in the Kona. Both cars offer acceleration that's lively at low speeds and general performance that's more than adequate for motorway driving.
In terms of ride comfort, the Kona is a little better than the Leaf, which occasionally crashes over imperfections in the road. Both cars improve as you increase speed, the Leaf in particular with its active chassis technology adjusting the suspension to balance agility and comfort. The Kona has the more comfortable driving position, though, and better visibility thanks to its higher SUV-style seating.
Refinement in each model is strong, mainly due to the complete lack of engine noise. It's hard to split the two cars here, with both allowing similar amounts of tyre and wind noise inside as you up the speed. Overall, neither is hugely enjoyable to drive, and both reward a more relaxed approach behind the wheel.
One of the Leaf's highlights is the e-Pedal. When turned on, it increases the level of regenerative braking so that you can drive the car almost solely with the accelerator, never touching the brake. Lift off the throttle and the system will bring the car to a halt, topping up the battery with more energy in the process.
The Kona has a similar setup and actually has more different settings for its regeneration. The five modes (compared to two in the Leaf) are controlled by paddles behind the wheel, but there are issues with the brake pedal feel in the switch from regenerative to regular braking. Both systems are easy to get to grips with and add to the cars' user-friendly nature.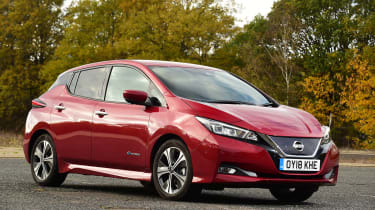 On the safety front, the Kona has automatic emergency braking with pedestrian detection as standard, plus blind-spot and collision warning, lane-keeping assistance, semi-autonomous adaptive cruise control and rear cross-traffic alerts. The Leaf offers similar kit levels but there's also Nissan's ProPilot package of driving aids, which adds traffic-jam pilot and lane-keeping assistance, but is a £400 option on N-Connecta trim. Both cars have five-star Euro NCAP safety ratings.
Driving & performance scores