Twin test: Hyundai Kona Electric vs Nissan Leaf
We put two of the market-leading mid-size electric cars head-to-head, with the Hyundai Kona Electric taking on the Nissan Leaf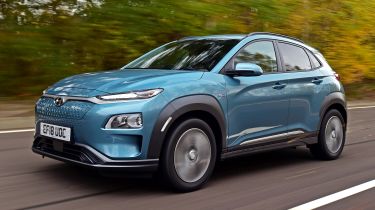 Pros
Practicality
Acceleration
Single-pedal driving
Cons
Infotainment
Unreliable app
Range
It might be hard to believe, but it was way back in 2010 when Nissan launched the first-generation Leaf. Today, that car has been superseded by the Mk2 version, but the newcomer was never going to have the clear run at the electric-car market that its predecessor enjoyed.
The new Nissan Leaf has a growing field of talented electric rivals to contend with, not least the Hyundai Kona Electric. But which one is best?
The Hyundai Kona Electric presents buyers with a choice of battery sizes and, as a result, ranges, but it's the cheaper 39kWh model we're testing in Premium trim. It costs £28,720 after the £3,500 Government plug-in car grant, so it undercuts the £29,295 Nissan Leaf that's in equivalent N-Connecta trim with a 40kWh battery.
With a longer official range of 194 miles to the Leaf's 168, the Hyundai Kona Electric has a clear edge on paper.
However, that edge will be negated for many by the long wait times faced by anyone ordering a Kona. In fact, as we write in June 2019, Hyundai has sold all of its 2019 Kona Electric allocation and has a waiting list of some 2,000 customers for the next batch.
Clearly, it's no small matter that you'll be waiting a year or more if you want to buy a Kona Electric, while the Leaf's delivery time is just a few months. Even so, we're here to judge which of these cars is best, not which is most available.
Hyundai Kona Electric 39kWh Premium
Nissan Leaf 40kWh N-Connecta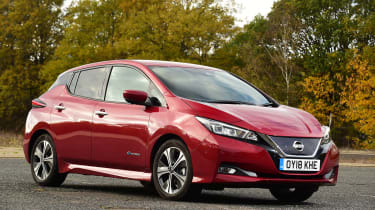 So, while the Leaf is a purpose-designed electric car in the family-hatchback mould, the Kona is an SUV that's also offered with petrol, diesel and hybrid engines – although it was designed from the outset with an electric variant in mind.
At a glance
|   | Hyundai Kona Electric 39kWh Premium | Nissan Leaf 40kWh N-Connecta |
| --- | --- | --- |
| Price | £28,720 (after PiCG) | £29,295 (after PiCG) |
| Estimated monthly cost* | £421 | £385 |
| Energy consumption / real-world range | 4.5 miles/kWh / 170 miles | 3.6 miles/kWh / 150 miles |
| Charge cost (13p per kWh) | £4.91 | £5.04 |
| Fastest 20-80% charge time | 30 mins (100kW) | 60 mins (50kW) |
| 0-60mph | 8.6 seconds | 7.8 seconds |
| Boot (seats up/down) | 332/1,114 litres | 435/1,176 litres |
*PCP estimate, based on a 36-month contract with £5,000 deposit and 10,000-mile annual allowance
Despite their different approaches, both cars promise good practicality and interior technology. But there can only be one winner. Read on for the rest of our head-to-head test between the Hyundai Kona Electric and Nissan Leaf…