Hyundai Kona Electric vs Nissan Leaf: range & charging
The Nissan Leaf features the biggest battery, but it's the Kona Electric that returns the most range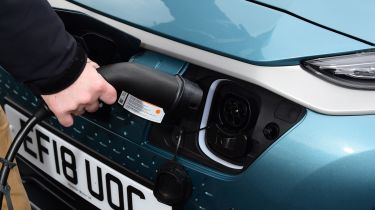 As you'd expect, both cars come equipped with all the charging cables you need. The sockets are found under water-tight flaps on the nose of each car, an arrangement we like as it gives more flexibility for charging at the side of the road.
The Nissan Leaf's slightly bigger battery capacity of 40kWh gives it a theoretical advantage over the 39kWh battery of the Hyundai Kona, but the Nissan's claimed range of 168 miles is actually 26 miles less than the Kona's. The Leaf is 11kg heavier than the Hyundai and that will be a factor in the inferior range and performance.
In our time with the cars, we found that the Leaf's real-world efficiency will see it offering 150 miles of range in warmer weather, while cold temperatures and poor weather will see that drop to around 120 miles or less. The Hyundai fares better, as our average efficiency of 4.5 miles/kWh (compared to 3.6 in the Nissan) shows. That means that the Kona will manage around 140 to 180 miles per charge, in normal real-world use and depending on temperature and driving style.
Charging
Both the Kona and Leaf offer rapid charging. The Leaf's CHAdeMO and the Hyundai's CCS connectors can both charge at 50kW, offering a 20-80% top-up in around 60 minutes. However, the Hyundai has the advantage of being able to charge at a faster rate of 100kW when stations of that power become more common in the UK. Find one that will cater to the Kona's maximum charging speed and you'll get a 20-80% top-up, or around 120 miles of range, in under 30 minutes.
It's also worth pointing out that the Hyundai's CCS charging port is now the accepted standard charging connection for Europe, while the CHAdeMO port in the Leaf is less common and is only going to become less popular as more charging stations are installed offering CCS instead.
Still, both the Leaf and the Kona Electric will accept a Type 2 plug that gives access to the vast majority of car chargers located in towns, gyms and shopping centres across the country, but most electric-car drivers with suitable off-road parking will simply charge at home.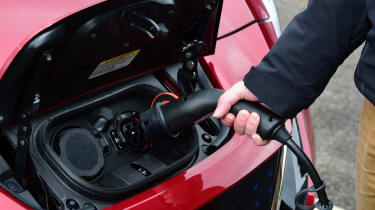 On a standard 7kW home wallbox, the Leaf charges in 7.5 hours, where Hyundai gets the time down to six hours 10 minutes.
What are the standard cables, and are they easy to store?
Both the Nissan and Hyundai come with a standard three-pin cable for plugging into your normal wall socket at home, and Type 2 cable for connecting to most AC car chargers including wall-mounted home chargers.
The Hyundai and Nissan both come with five-metre cables and do not offer longer cables as an official manufacturer or dealer option. However, both eight and 10-metre Type 2 cables that will safely connect the Hyundai to a public charger or home wallbox are widely available online for under £200.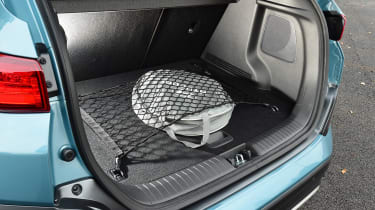 The Hyundai has a useful dedicated storage space for its cables under the boot floor, which are easy to use whether you like to fling them in haphazardly or fold them into their cases. The Leaf has space to keep the cables out of the way on either side of its spacious boot, although you'll have to keep them neatly in their cases if you want to keep the boot space clear. 
How much will the Nissan Leaf and Hyundai Kona Electric 39kWh cost to charge?
The Kona's smaller 39kWh battery means it'll cost up to £4.91 to charge on an off-peak electricity tariff costing 8p per kWh. The Leaf is slightly more expensive, thanks to its 40kWh battery, at just over £5, but keep in mind that those costs might double if you charge in peak hours. All the more reason, then, to set specific charging hours, which you can do in both cars, but it's easier in the Nissan thanks to its app – which you can read more about in the connectivity section.
Range & charging scores