Hyundai Kona Electric vs Nissan Leaf: running costs & warranty
Slightly better efficiency gives the Hyundai Kona Electric the edge over the Nissan Leaf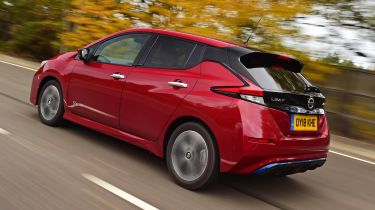 The Hyundai certainly betters the Nissan for purchase costs if you're a cash buyer, but most will opt to pay on finance, where it could be a different story. We got a quote based on a 36-month PCP contract with a deposit of £5,000 and found that the Hyundai came out at £421 per month compared to £385 for the Nissan.
Given the inherent mechanical simplicity of electric cars, routine maintenance is a little more expensive than we'd expect for both cars. The Nissan Leaf costs £149 to service and while the first check on the Hyundai Kona Electric is a reasonable £67, the second rises to £149.
Both cars must be serviced every 12 months according to the service schedule, but high-mileage drivers will like the fact that they can do 18,000 miles in that time before a service is due, while the Kona must be serviced every 10,000 miles.
Warranty and battery cover
Mind you, the Kona goes some way to making up for that with a standard unlimited-mileage/five-year warranty on the car and a battery warranty of eight years and 125,000 miles. The Nissan's electric drive components are covered by a five-year/60,000-mile warranty, but 'standard' components are only covered for three years/60,000 miles (extendable for an extra fee). The Nissan's battery warranty protects against capacity loss for eight years or 100,000 miles, and will kick in if the maximum capacity drops below 75% – or nine bars out of the 12 that are displayed on the Leaf's screen.
Depreciation
If you buy either car privately, depreciation will be a major cost. The Leaf has an advantage here, but it's a marginal one. The car is predicted to retain 39.7% of its value compared to the Kona's 39%, which means that the Hyundai will lose £97 less over three years, eventually being worth £16,709.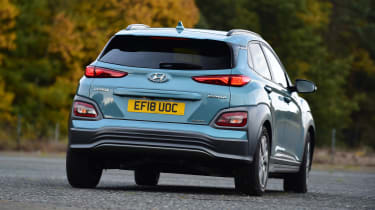 Company-car costs
As we know, electric cars are a great way to cut your company-car tax. Both of these models fall into the 13% BiK band, meaning that higher-rate taxpayers will pay £1,602 per year for the Hyundai and £1,629 for the Nissan.
Running costs & warranty scores