Renault ZOE (2013-2019) electric motor, drive & performance
In R110 form, the Renault ZOE has a zippy turn of pace when Eco mode is switched off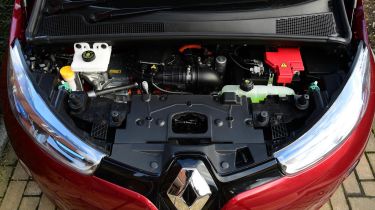 | 0-62mph | Top speed | Driven wheels | Power |
| --- | --- | --- | --- |
| 11.4secs | 84mph | Front | 109bhp |
The R110 ZOE is usefully nippy around town – especially if you turn off Eco mode.
Renault ZOE electric motor, 0-62mph and acceleration
The 107bhp Renault ZOE R110 will do 0-62mph in 11.4 seconds. However, it's worth noting that it can do 0-30mph in 3.9 seconds, which makes it very quick around town and in city environments.
The ZOE defaults to an Eco mode every time you start it, which most of the time is absolutely fine, but it does rather neuter the acceleration so the car feels quite slow if you want to make a quick getaway into traffic.
Switch Eco off and your range will suffer, but the throttle response and acceleration from a standstill feel sharper and more immediate.
The regenerative brakes in the ZOE can feel a little abrupt at first, but you get used to it. This is just as well, as you can't alter the strength of regeneration as you can in a Volkswagen e-Golf and several other electric cars.
Overall, while the ZOE is no hellraiser, it's a cinch to drive around town, with light, intuitive controls and great refinement as well.
Handling
The ZOE's large batteries make it much heavier than a Renault Clio – by some 400kg, no less – and that results in more lean through corners.
Even so, the steering response is predictable, there's enough grip to feel secure, and the ZOE proves generally calm and relaxing. The ride is a bit bouncy at times but it's well damped enough that it doesn't get uncomfortable.