Renault Kangoo E-TECH electric running costs, insurance, warranty & tax
The Renault Kangoo E-TECH is competitively priced compared to rival electric vans and will be very cheap to run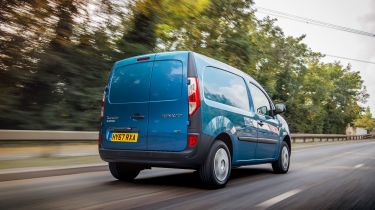 Prices excluding VAT start at around £19,500 for the standard van, while the Maxi is about £2,000 extra, and the Crew van is another £1,000 on top of that. As with all other electric light commercial vehicles (LCVs), the Kangoo qualifies for an £8,000 government plug-in van grant, which is included in those figures. There are savings to be had in other areas, with zero road tax (it's £250 for a regular LCV), while all-electric drive means exemption from the London Congestion Charge until 2025, as well as free entry to other planned low-emissions zones.
Renault Kangoo E-TECH electric insurance group
The Kangoo E-TECH falls into similar insurance groups to its rivals, ranging from groups 30-33.
Warranty
Until the end of January 2018, all Renaults came with a four-year/100,000-mile warranty. However, as most buyers on finance take out three-year deals, Renault revised its warranty cover to reflect this, so now it's a three-year/100,000-mile warranty on all models, including the Kangoo E-TECH. In addition there's a five-year/100,000-mile warranty on the battery and four years/100,000 miles of cover for the rest of the electric drive system.
Servicing
Renault offers variable servicing deals on the Kangoo E-TECH that are dependent on the kind of miles you do in a year and the battery contract you take out when purchasing.
Road tax
All Kangoo E-TECHs are road-tax-exempt, as they have zero tailpipe emissions.