Renault Kangoo Z.E. van costs, insurance, warranty & tax
The Renault Kangoo Z.E. is competitively priced compared to rival electric vans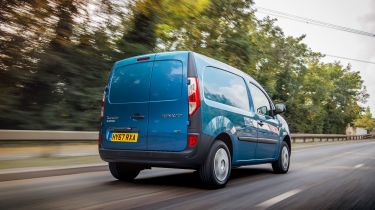 Prices excluding VAT start at around £19,500 for the standard van, while the Maxi is about £2,000 extra, and the Crew van is another £1,000 on top of that. As with all other electric light commercial vehicles (LCVs), the Kangoo Maxi Z.E. qualifies for an £8,000 government plug-in van grant, which is included in those figures
Company-car tax is also cheaper than for an equivalent diesel van. There's a flat rate to pay for electric LCVs, and for the Kangoo Z.E. that means an annual tax rate around £2,000 less than you'd pay for the cheapest diesel Kangoo.
There are savings to be had in other areas, with zero road tax (it's £250 for a regular LCV), while all-electric drive means exemption from the London Congestion Charge, as well as free entry to other planned low-emissions zones.
Renault Kangoo Z.E. insurance group
The Kangoo Z.E. falls into similar insurance groups to its rivals, ranging from groups 30-33.
Warranty
Until the end of January 2018, all Renaults came with a four-year/100,000-mile warranty. However, as most buyers on finance take out three-year deals, Renault revised its warranty cover to reflect this, so now it's a three-year/100,000-mile warranty on all models, including the Kangoo Z.E. In addition there's a five-year/100,000-mile warranty on the battery and four years/100,000 miles of cover for the rest of the electric drive system.
Servicing
Renault offers variable servicing deals on the Kangoo Z.E. that are dependent on the kind of miles you do in a year and the battery contract you take out when purchasing.
Road tax
All Kangoo Z.E.s are road-tax-exempt, as they have zero tailpipe emissions.