New 2022 Renault Kangoo E-TECH electric van: pictures, specs, details and on-sale date
An all-new version of the Renault Kangoo E-TECH compact electric van has been unveiled and will go on sale in the early part of 2022; prices have yet to be confirmed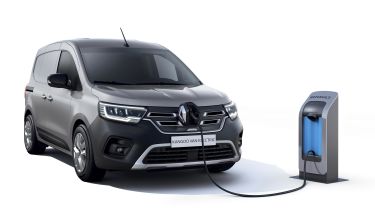 Full details of the new third-generation electric Renault Kangoo van have been revealed. Now known as the Kangoo E-TECH in line with the rest of the brand's electrified models, the van gets a 45kWh battery for a claimed range of up to 186 miles according to official testing.
Charging capability has also been significantly improved over the outgoing Kangoo Z.E., with up to 80kW rapid charging now standard. Renault says this will allow over 100 miles of range to be added in around 30 minutes. Wallbox charging at either 11kW or 7.4kW is also possible, with the former taking just under four hours to replenish the battery from 10 to 80% capacity and the latter doing the same in six hours. A heat pump is also available in conjunction with an optional 22kW charger, allowing cabin heating to take place without draining range from the battery.
The new Kangoo E-TECH is powered by a 90kW electric motor with peak torque of 245Nm. Exact performance figures haven't been issued, but Renault has detailed the three regenerative braking modes available to drivers. B1, also known as 'sailing', keeps the regenerative effect to a minimum and is most suited to motorway or faster-road driving. B2 is the default mode, designed to mimic the sensation of taking your foot off the accelerator in a petrol or diesel-engined van, while B3 ramps up the regenerative effect to the full, for use in heavy traffic or on steep roads.
On the practicality front, the Kangoo E-TECH loses no load space compared to its diesel-engine counterpart, thanks to the batteries being mounted in the van's floor. Storage volume is up to 3.9 cubic metres, payload is 600kg and towing capacity is 1,500kg. A long-body version will join the range at a later date, boosting load volume to 4.9 cubic metres and payload to 800kg.
The same equipment features offered with the standard Kangoo are also available for the E-TECH; these include the 'Easy Inside Rack' retractable interior gallery, an eight-inch dashboard screen, a hands-free key card and an automatic parking brake. It's also available with three front seats with a central folding backrest that turns into a mobile office, almost 60 litres of storage in the cab and range of driver comfort and driver assistance systems.
Through Renault's smartphone app or the on-board Easy Link infotainment screen, owners can programme and schedule battery charging, remotely monitor the battery level, pre-heat or pre-cool the passenger compartment, search for charging stations along the route, or calculate which destinations are accessible with the remaining battery level.
The new Kangoo E-TECH is set to go on sale throughout Europe in spring 2022. Exact dates for orders opening and UK pricing have yet to be confirmed. When it does arrive, it'll go up against a wide array of small electric-van competitors, including its sister models the Nissan Townstar and Mercedes eCitan, as well as the Stellantis Group's Citroen e-Berlingo, Peugeot e-Partner and Vauxhall Combo-e trio.
New electric vans arriving in 2022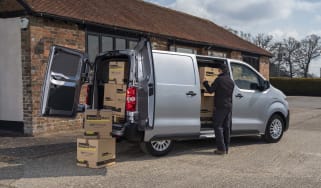 New electric vans arriving in 2022
Top 10 best seven-seater electric and hybrid cars 2022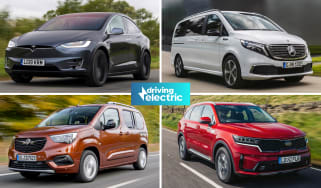 Top 10 best seven-seater electric and hybrid cars 2022
If the regular crop of electrified SUVs and family cars don't provide enough practicality for you, then take a closer look at the range of electric an…
Top 10 cheapest electric cars 2022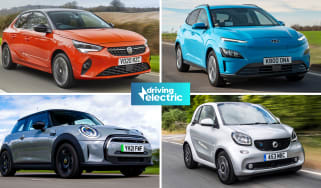 Top 10 cheapest electric cars 2022
Contrary to popular opinion, not all electric cars are expensive. Here are the cheapest ones available in the UK right now
New electric cars coming in 2022 and beyond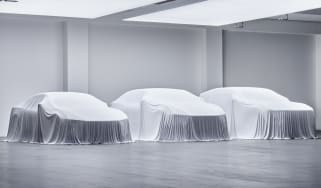 New electric cars coming in 2022 and beyond
With electric cars making up an ever-increasing proportion of sales, the industry is working flat out to launch new models – here's what's on the way …