Porsche Mission R concept hints at electric Cayman and Boxster
We've driven the electric racing car concept that hints to the zero-emissions future of Porsche's mid-engined sports cars
Porsche unveiled the Mission R electric racing-car concept at the 2021 IAA Mobility motor show in Munich back in September. The German brand said it points the way to a zero-emissions successor for its popular 911 Carrera Cup racing car – the basis for numerous one-make championships in Europe and further afield for over 30 years.
However, it's thought the concept could also point the way to a new electric road car from Porsche – potentially a zero-emissions version of the 718 Cayman coupe and 718 Boxster convertible. Speaking after Porsche's annual results conference in March 2021, Porsche CEO Oliver Blume said a decision had yet to be made on whether the next-generation Cayman and Boxster – expected to arrive in 2024 – will be fully electric.
"There is an opportunity that we'll do the 718 electric, but we're still in a concept period, where we haven't decided yet," he explained. "To go electric now we need future battery evolution. We will wait a couple of months more before we decide which concept we will use. But I think there is a positive potential to do this, and when we do the 718 electric it should be driven like a 911 and all the other sports cars."
A new Boxster and Cayman are sure to arrive, however – whether they end up being electric or combustion-engined. "We'll continue with the model range of the 718," Blume added. "That is clear. If it's combustion engine or electric isn't decided yet."
Under the metal, the Mission R has twin electric motors generating a maximum power output of 1,073bhp in 'qualifying mode', fed by a 80kWh battery. Accelerating from 0-62mph takes less than 2.5 seconds, while top speed is 186mph. Thanks to 900-volt electrics allowing for a maximum charging speed of 340kW, the Mission R's battery can be topped up from 5% battery capacity to 80% in just 15 minutes of being plugged in.
Speaking to our sister title Auto Express at the launch of the Porsche Taycan electric four-door back in autumn 2019, the company's deputy chairman Lutz Meschke said: "In the sports-car segment we have to think about a pure electric car. An [electric] 911 will be too difficult. But for the 718 I think that it would be a very good step for the future and it would be on a completely new platform that we can discuss and share with other brands."
He added: "A pure-electric sports car would not only be important for China, but also Europe and US markets, as sports cars are the heart of our brands and we cannot sit only on SUV cars. We have to do something in the direction of our sports cars and I think the 718 is the right direction." Porsche intends for 50% of its sales to be made up of pure-electric cars by 2025 and has already said the next-generation Macan SUV will be pure electric.
Porsche Mission R concept drive
The Mission R is wide and surprisingly short, with huge slick tyres and a massive rear wing that dominates its looks. Before getting behind the wheel, though, a full safety briefing warns us about the potential hazards of a 900-volt EV with up to 1,073bhp on tap having a meltdown.
We weren't experiencing the Mission R concept in full-on 'qualifying mode', nor in its normal 671bhp 'race mode'. The car was perhaps producing more like 400bhp, but in a circa-1,500kg vehicle, that should still make for very lively performance.
Sitting inside the Mission R, after climbing through the bars of the roll cage and strapping into the racing seat, the track ahead is visible through a narrow rectangle of a windscreen. The car is silent when switched on, but once in motion, earplugs were vital, as it erupted into a riot of screaming gears and electric motors.
It's not the same soundtrack that fans of motorsport are used to hearing – nor does it sound like any conventional electric road car – but from the inside, at least, the Mission R still has the full amount of presence and aggression you'd expect.
The brakes may not be anti-lock, but they're hugely powerful, while only small movements of the steering wheel are required to access the incredible amount of grip on offer. Driving the Mission R was a very physical and involving experience, but also surprisingly emotive, despite the lack of a combustion engine.
Top 10 best plug-in hybrid SUVs 2022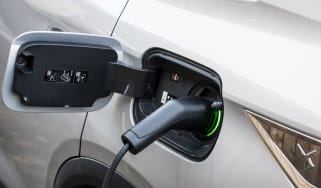 Top 10 best plug-in hybrid SUVs 2022
The finest plug-in hybrid SUVs offer low running costs, enough electric range for daily use and excellent practicality. These are the best plug-in hyb…
Top 10 best plug-in hybrid cars 2022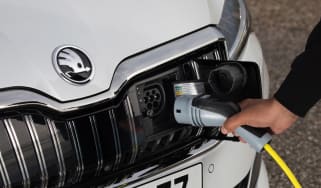 Top 10 best plug-in hybrid cars 2022
Plug-in hybrid cars are great for keeping fuel and company-car tax bills low. Here are the best ones to buy in the UK right now
Top 10 best luxury electric cars 2022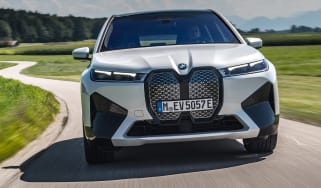 Top 10 best luxury electric cars 2022
From Audi to Tesla, here are our top picks of the most luxurious zero-emissions motoring options on the market right now