Peugeot 508 SW Hybrid costs, insurance, warranty & tax
The 508 Hybrid's road tax and company-car BiK rates will be very attractive to some customers, while Peugeot's warranty is better than many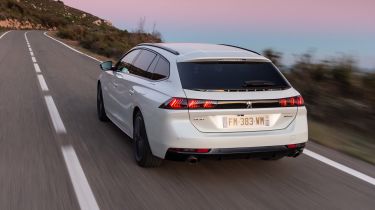 | Insurance group | Warranty | Service interval | 2020/21 company-car tax cost (20%/40%) |
| --- | --- | --- | --- |
| 31-34 | 3yrs / unlimited miles | TBC | From £729 / £1,460 |
While the 508 SW Hybrid's fuel-economy figures should be widely appealing, so too will its low tax figures prove compelling for both private owners and company-car drivers. High fuel efficiency means low CO2, and that results in minimal tax ratings and has a positive effect on BiK, too. The car compares well with rivals in both its own sector and more premium marques in this respect.
Peugeot 508 SW Hybrid insurance group
Insurance groups are very similar to that of the fastback 508 Hybrid, and just a touch higher on the GT. Allure trim falls into group 31 and GT Line into group 33, while the GT is one group higher than its fastback equivalent, at 34. This puts the car roughly in line with the equivalent BMW 330e Touring.
Warranty
Like other Peugeots the 508 SW Hybrid gets a two-year/unlimited-mileage warranty as standard, with a third-year/60,000-mile upgrade also offered. That's far from industry-leading, but still favourable in comparison to rivals – Skoda's three-year warranty is capped at 60,000 miles, and BMW's 330e has a 100,000-mile limit.
Servicing
Peugeot hasn't yet confirmed service costs and intervals for the 508 SW Hybrid. It offers monthly plans for its vehicles though, and the closest comparison can be drawn with existing petrol and diesel 508s, coming in at £14 a month for a 36-month/30,000-mile package, rising to just over £17 per month for a 60-month/50,000-mile plan. The plans can be purchased up to 12 months after the date of first registration.
Road tax
The 30-34g/km of CO2 quoted by Peugeot will be easy to appreciate, as it results in zero road tax (VED) for the first year of ownership and £140 a year thereafter, plus correspondingly low BiK rates for business users. That said, GT models break the £40,000 surcharge barrier, so owners pay an additional £325 yearly penalty in years two through six. If you play fast and loose with the options list, Allure and GT Line variants may also cross the threshold.
Company-car BiK rates are pretty favourable, though. All 508 Hybrids, regardless of trim level, fall into the 10% bracket, meaning tax bills starting at £60.82, £63.73 and £70.32 per month in 2020/21 for 20% tax payers, and £121.63, £127.47 and £140.63 for those in the 40% bracket.