UK's first Gridserve Electric Forecourt opens for business
Gridserve's Essex charging facility boasts charging for 30 cars at up to 350kW, along with food and retail outlets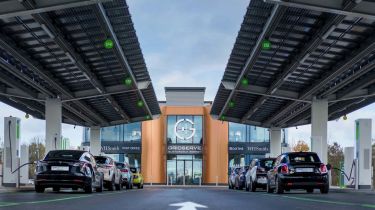 The "most advanced charging facility in the UK" opened to the public on the morning of 7 December, offering simultaneous charging for 30 vehicles, plus a building with food outlets, shops and an electric vehicle education centre.
Gridserve Electric Forecourt, near Braintree, Essex, has chargers rated at up to 350kW, and the firm's CEO Toddington Harper says the site is capable of charging any electric vehicle on the road at whatever rate it'll allow.
The site's chargers are supplied by ABB and comprise 12 350kW (CCS), 12 90kW (CCS and CHAdeMO), and six Type 2 22kW AC chargers. These are paid for on a plug and charge basis. In addition, there are six Tesla Superchargers. Initially, customers will be charged 24p per kilowatt-hour (kWh) for charging, which Harper describes as "competitive". In comparison, Ionity charges 69p per kWh for its fastest charging facility.
Customers aren't required to have an account, and the Electric Forecourt has been designed to be as simple to use as possible. Motorists plug in, tap their contactless card, smartwatch or phone on the card reader mounted on each point and drive away once they've finished charging. In time, Gridserve will roll out an app, while membership options could drive down the cost per kWh further, Harper says.
Gridserve will also roll out 'plug and charge' technology in around six months' time. Once set up, this will allow chargers and vehicles to recognise each other, meaning charging costs will be debited automatically from the user's account.
Harper describes the Braintree site as a "template" for future Electric Forecourts. The next two locations – in Norwich and Uckfield, East Sussex – have planning permission, and around six more will open in 2021. By 2025, 100 sites are planned around the UK. Each of the main sites will feature a range of retail outlets, including WH Smith, Costa, Post Office and food retailer Booths, to create what Harper describes as "a high-end petrol forecourt".
Above the shops will sit an education centre and a lounge with free wi-fi, bookable meeting pods and a wellness centre, featuring exercise bikes that can generate electricity that's fed back to the chargers. While the chargers are available 24 hours a day, the retail units and meeting rooms are open from 6am to 10pm.
Harper says the setup is designed to provide confidence to electric-vehicle drivers and deliver rapid charging at scale. He said: "We want to enable the masses to move to electric vehicles. People just want to use their car, and not be daunted. This is designed to work for the masses".
The site, which is around 17 miles from the M11 and Stansted Airport and a similar distance from Colchester and Chelmsford, will be net-carbon-neutral from the start. Gridserve has recently acquired a 10MWp (megawatt peak) solar farm with a six-megawatt battery near Flitwick, Bedfordshire, which will provide net-zero-carbon energy. In addition, there are 200 KWp (kilowatt peak) solar panels on the Braintree site.
Many of these panels, which feature photovoltaic cells on both sides to maximise the amount of energy generated, form shelters above the main rows of chargers.
Each electric forecourt will be futureproof, allowing Gridserve to add more chargers and adapt to a changing market. Its on-site energy storage can even supply power equivalent to 24,000 miles of charging in the event of a power outage.
Best plug-in hybrid SUVs 2021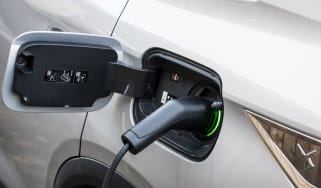 Best plug-in hybrid SUVs 2021
A good plug-in hybrid SUV should combine low running costs with excellent practicality. These are some of the best on sale right now
Best electric SUVs 2021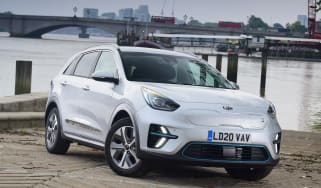 Best electric SUVs 2021
Our selection of the best electric SUVs you can buy features cars that promise to mix style, practicality and rock-bottom running costs
Longest range electric cars 2021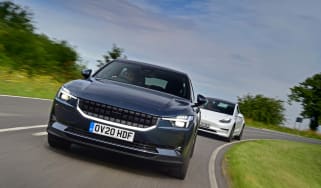 Longest range electric cars 2021
The range of electric cars is continually improving. Here are the top 10 models with the longest range on a single charge