Visiting the Mercedes electric-car battery plant
DrivingElectric gets a look behind the scenes as capacity ramps up for Mercedes EQC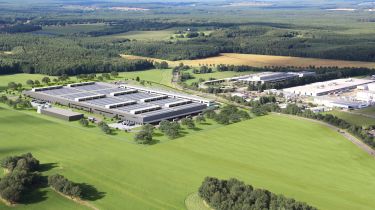 Mercedes is ramping up its electric-car battery production capacity ahead of the arrival of the new Mercedes EQC electric SUV and several plug-in hybrid models next year.
DrivingElectric travelled to Kamenz, near Dresden in eastern Germany, to see firsthand the electric car battery production process, and the newly constructed plant where batteries for the EQC will be produced.
The factory in Kamenz is operated by Deutsche Accumotive – a wholly-owned subsidiary of Mercedes' parent company Daimler AG. It currently produces the battery packs for the Smart EQ range of small electric cars, which consists of the Smart EQ ForTwo, Smart EQ ForTwo Cabrio and Smart EQ For Four.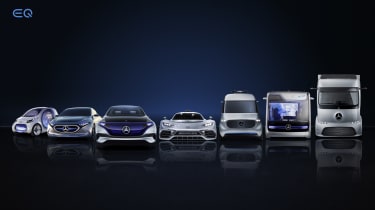 Mercedes produces its own batteries, because, as Deutsche Accumotive managing director Erhard Schletterer explains, the battery forms an integral part of the car's structures and can 'define' the model – much like an internal-combustion engine – so Mercedes wanted full control.
However, the cells within the batteries come from outside suppliers – including South Korea's LG Chem. With battery cell technology progressing rapidly, car manufacturers are reluctant to make big investments in a particular type of cell when it's not clear what the industry standard will be yet, preferring leaving that job to their suppliers.
At the beginning of the battery production line, the individual flat rectangular cells are picked up and placed into holders (one cell on each face of the holder). A foil covering is added to allow the cells to expand and contract during charging and discharge.
The cells in their holders are then combined to produce a pack of cells.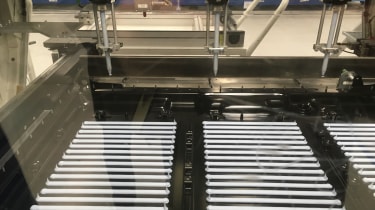 Three individual packs are then attached to the base of the battery unit with heat-transfer paste, which takes excess heat generated during charging and use out of the packs and dissipates it through the car's structure.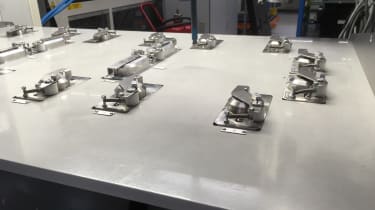 Once the three packs are in place, the battery is 'live', so as the battery unit proceeds down the assembly line, further assembly can only take place through a sealed cover to protect against the possibility of electric shock. Workers insert tools into small 'keyhole' openings to work on the battery inside.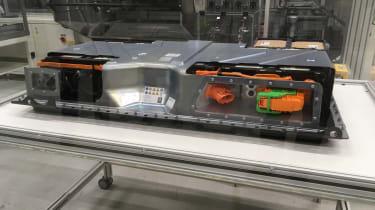 The battery is complete and made safe when the outer casing is put in place. The bright orange areas visible on the exterior are connection points for high-voltage cables.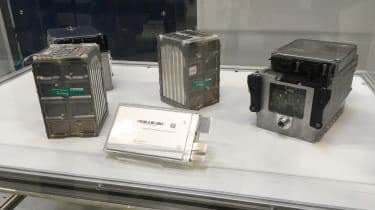 The factory in Kamenz also produces 48v batteries for 'mild hybrid' cars. These can take a higher load than a regular lead-acid car battery, improving fuel economy by allowing greater use of stop-start technology and taking some of the load off the engine during acceleration.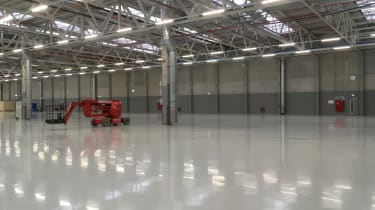 The current facility in Kamenz, opened in 2008 and expanded twice since then, is now at capacity, so a new and larger facility just around the corner is in the final stages of construction, ahead of Mercedes EQC production beginning next year. It incorporates a 'launch line' that will take care of the first phase of EQC battery production, as well as up to three more automated full-production lines.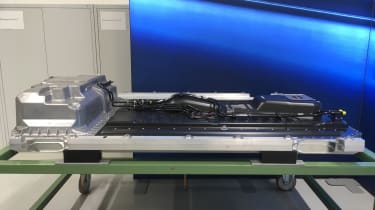 When the new facility opens next year, Mercedes will have a total of around 80,000 square metres of battery production facilities at Kamenz, employing around 1,000 people. It joins other battery production facilities in Stuttgart and Sindelfingen in Germany, as well as two sites in the US, one in China and one in Thailand.
New Smart #1 electric SUV: specs, range, on-sale date and prototype ride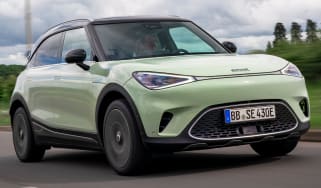 New Smart #1 electric SUV: specs, range, on-sale date and prototype ride
New Kia Niro EV rival will kickstart a new line-up of Smart electric cars; order books open in December, but we've ridden shotgun in a prototype
Where can I buy hydrogen and where is my nearest hydrogen filling station?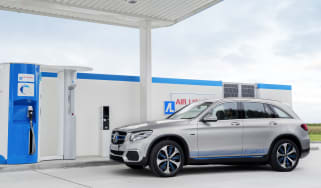 Where can I buy hydrogen and where is my nearest hydrogen filling station?
A guide to where you can find UK hydrogen fuel stations for filling up a hydrogen fuel-cell car
Top 10 best electric SUVs 2022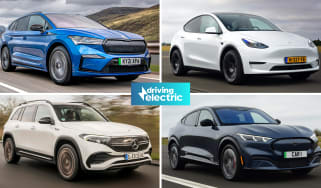 Top 10 best electric SUVs 2022
Electric SUVs combine style and practicality with low running costs, making them a very popular choice in the UK. Here are our top 10 favourites to bu…