Volkswagen ID.3 convertible being considered for production
A Volkswagen ID.3 cabriolet could be on the way, with new images showing how it might look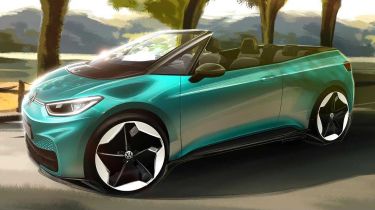 Volkswagen is considering producing a convertible version of its ID.3 electric car. CEO Ralf Brandstätter released some official render images on social media, but no confirmation of production has been given, nor a potential arrival date.
Brandstätter has simply referred to the car as "a very tempting idea"; reports in German media reckon that development is almost complete and that the car is set for an early 2022 arrival.
The new images show that the ID.3 is likely to lose a set of doors during the conversion, with the tailgate swapped out for a smaller item to make room for a large fabric roof. It's likely that any convertible ID.3 would get a similar line-up of electric motors and batteries to the standard hatchback, starting with a 58kWh battery and 143bhp motor.
Unlike conventionally powered convertibles, the ID.3 would likely not be unduly heavier than the hatchback; its batteries and MEB platform would do a good job of retaining rigidity that tends to be lost when chopping the roof off a normal car, so there'd be less need for extra structural reinforcement.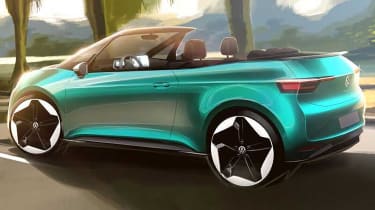 The ID.3 convertible follows the ID. Buggy concept in the line of topless electric Volkswagens; the latter was originally slated to arrive in 2022 but has since been put on hold. It's therefore likely that the ID.3 will be the first convertible electric car from the brand – not to mention the first four-seater electric convertible to go on sale. According to reports, existing folding-roof technology from within Volkswagen would be implemented to keep development costs down.
It's not yet clear if other manufacturers will try to take on the ID.3 convertible if it arrives; MINI has already written off the idea of a convertible MINI Electric due to poor sales of the petrol version, while the wider Stellantis Group line-up has shown no signs of adding a drop-top zero-emissions model any time soon.
Similarly, Kia and Hyundai's electric offerings aren't ideally suited for such a conversion, although there may be room in the all-new Ioniq range of electric cars from the latter South Korean manufacturer.
Top 10 best electric family cars 2023/2024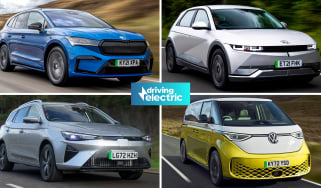 Top 10 best electric family cars 2023/2024
Peugeot E-3008: pricing announced for France's answer to the Tesla Model Y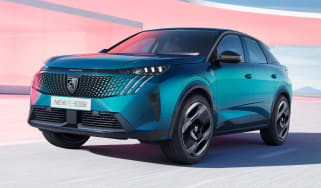 Peugeot E-3008: pricing announced for France's answer to the Tesla Model Y
First contact: facelifted Kia EV6 will look even more like a UFO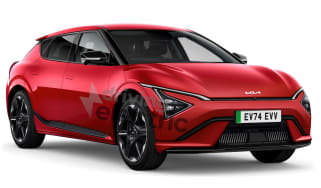 First contact: facelifted Kia EV6 will look even more like a UFO
Kia is readying an update for the EV6 crossover, which is set to include a new face and tech from the larger EV9
New Fisker Ocean Sport washes up in the UK: £36k for a 288-mile range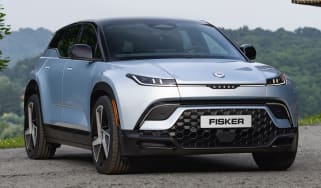 New Fisker Ocean Sport washes up in the UK: £36k for a 288-mile range
American EV startup Fisker has just launched its entry-level Ocean SUV in the UK, with a range of up to 288 miles
Electric Renault Twingo revealed as £17k rival to Citroen e-C3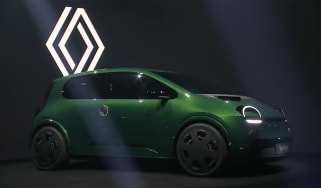 Electric Renault Twingo revealed as £17k rival to Citroen e-C3
Renault has unveiled its smallest EV yet; a sub £20k city car with a claimed high level of efficiency