Honda Insight vs Toyota Prius: original hybrid legends head-to-head
We bring the original versions of the Prius and Insight together to celebrate the cars that pioneered hybrid technology
Hybrid power isn't as recent an invention as you might think. The very first hybrid (a range extender) was designed by some bloke called Ferdinand Porsche in 1900. Yet it wasn't until nearly 100 years later that hybrid cars really broke through to the mainstream, courtesy of this duo: the Honda Insight and Toyota Prius. 
Toyota ultimately got there first with the Mk1 Prius, which it sold in Japan from 1997 and then worldwide from 2000. Paired with a 1.5-litre, four-cylinder petrol engine, the Toyota's electric motor was powered by a bank of nickel-metal hydride batteries and took the car's total power to a rather underwhelming 100bhp.
More important than performance was the way this full hybrid system worked, allowing the Prius to drive on petrol, electric or a combination of both.That's rather different to the Honda insight, which arrived in 2000, weighed a mere 850kg and used its slippery bullet shape to achieve a drag coefficient of just 0.25, making it the most aerodynamic car on sale when it launched. 
It uses its electric motor simply to boost the performance of the cheerful 1.0-litre three-cylinder petrol engine, bringing power to a mere 75bhp; it can't run on electric power alone as the Prius can. For all that, the Honda managed official fuel economy of 83.1mpg compared to the Prius' 57.6mpg, so at the time the Insight won the efficiency battle.
What are they like to drive?
About as different as they look. Honestly, the Toyota has all the charisma and appeal of a bout of chickenpox, while the Insight is just as intriguing and fun as it looks in the Citrus Yellow shade of our test car.  
A snappy, five-speed gearshift and a petrol engine that you can rev to 6,000rpm (although you shouldn't if you want to achieve the economy we mentioned) make the Honda seem remarkably lively. The steering feels a little disconnected, but the 14-inch alloy wheels make for a comfortable ride. Plus, the Insight's low weight makes it feel far more entertaining and fleet-footed than a 0-62mph time of 12.5 seconds suggests.
Yet it does appear the Insight owes more of its fabled efficiency to weight saving and aerodynamics, with the hybrid boost something of a mild chaser to the fascinating engineering going on elsewhere in the car. Certainly, you can trace the roots of modern mild-hybrid technology – now becoming the 'normal' petrol or diesel option in everything from a Fiat 500 to a Volvo XC60 – back to the remarkable little Honda. But if you want the roots of the full hybrid technology that has dominated petrol-electric powertrains for two decades, you have to look to the Toyota.
What's instantly amazing about the Mk1 Prius is how close it is in principle and feel to today's Prius. Everything from the power-flow graph on the colour screen (quite the novelty in 2000) to the way the CVT automatic gearbox ekes out the electric running on a light throttle load before the petrol engine whirrs to life can be found in today's Prius.
Sure, there's a huge amount of body lean and steering response is comically slow, with more turns lock-to-lock than we had the patience to count, but we can say that the Prius has a great turning circle. It wasn't thrilling to drive, even when it was new, but in retrospect it's fair to say Toyota was virtually psychic in the way it predicted how the hybrid car would form and evolve. It got the template spot-on the first time around.
There's real irony in facing off these two giants of the hybrid breed, then. The Honda makes the engineering headlines – it's the cult car that whips up interest and is way more fun to drive and arguably more innovative than the Prius. It's the extraordinary to the Toyota's relentlessly ordinary.
Yet, by any measure of significance, it's the Prius that matters most. After all, not only was the Insight – loved as it still is – a loss maker for Honda, it was ultimately an intriguing flash in the pan of car culture. One that proved how efficient hybrid technology could be when taken to an extreme, but one that also asked a lot of compromises in the form of a two-seat body and a high price. 
Ultimately, Honda's splendidly original and frolicsome Insight proves that hybrid technology needn't be boring. But Toyota proved that to be successful, it probably should be. With well over 13 million hybrid Toyotas sold since the launch of the Prius, there's really no question which of these cars is the true godfather of the modern hybrid.
Specifications: Toyota Prius Mk1 (1997-2004)
| | |
| --- | --- |
| Price when new | £16,405  |
| Engine | 1.5-litre 4-cylinder petrol plus electric motor |
| Transmission | CVT automatic, front-wheel drive |
| Power | 100bhp |
| 0-62mph | 13.4s |
| Economy | 57.6mpg |
| CO2 | 114g/km |
Specifications: Honda Insight Mk1 (2000-2006)
| | |
| --- | --- |
| Price when new | £17,170 |
| Engine | 1.0-litre 3-cylinder petrol plus electric motor |
| Transmission | 5-speed manual, front-wheel drive |
| Power | 75bhp |
| 0-62mph | 12.5s |
| Economy | 83.1mpg |
| CO2 | 80g/km |
New 2022 Cupra Born electric car: prices, specs and details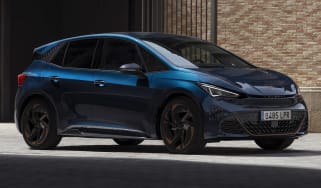 New 2022 Cupra Born electric car: prices, specs and details
Cupra's first electric car, and sister model to Volkswagen's ID.3, can cover up to 335 miles on a charge and do 0-62mph in under seven seconds; prices…
Where can I buy hydrogen and where is my nearest hydrogen filling station?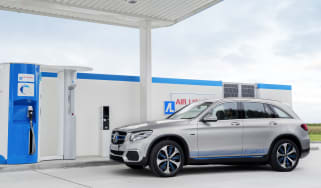 Where can I buy hydrogen and where is my nearest hydrogen filling station?
A guide to where you can find UK hydrogen fuel stations for filling up a hydrogen fuel-cell car
New 2022 Volkswagen ID.5 and ID.5 GTX: prices, spec and details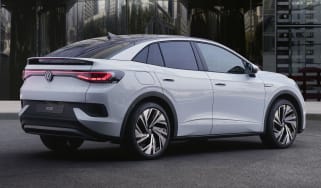 New 2022 Volkswagen ID.5 and ID.5 GTX: prices, spec and details
The coupe version of the ID.4 can cover up to 313 miles on a charge and is available in high-performance GTX guise from launch; prices start from £50,…