Used Honda Insight Mk2 buying guide
All you need to know about buying a used Honda Insight Mk2 hybrid, produced from 2010 to 2014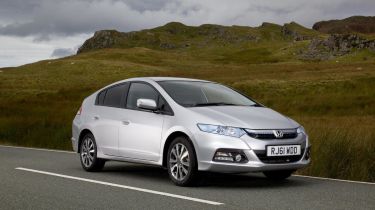 Although the Toyota Prius was the world's first production hybrid car, launching in Japan in 1997, the original Honda Insight was the first production hybrid to go on sale in the UK (in 2000), beating its rival by just a few weeks. However, the two-seater Insight was a very specialised machine and just 300 or so were sold across the whole of Europe.
What Honda needed if it was to compete with the Prius was a more mainstream family hatchback, and that's exactly what it came up with for the Insight Mk2, which was launched a decade after its predecessor.
Unfortunately for Honda, the Insight failed to capture buyers' imaginations, largely because the focus had been so much on keeping costs down that the Insight didn't feel like a high-quality product. In typical Honda fashion it was reliable, but the interior and the driving experience were both underwhelming.
History
January 2008: The Honda Insight is shown at the Detroit Motor Show in prototype form.
April 2009: The Honda Insight Mk2 goes on sale in the UK as a five-door hatchback only. All Insights come with an 87bhp, 1.3-litre four-cylinder petrol engine supported by a 14bhp electric motor, which drove the front wheels through an automatic continuously variable transmission (CVT).
July 2010: In response to customer feedback, Honda releases a revamped Insight with recalibrated suspension for better handling, and some higher-quality cabin materials. There's also a new range-topping EX model to sell alongside the previous SE and ES editions.
September 2011: Honda unveils a cleaner Insight with CO2 emissions now pegged at 96g/km. The reduction is thanks to aerodynamic tweaks and a slightly more efficient powertrain. There's also a new grille, a slimmer rear spoiler and some interior trim parts are of a higher quality.
Which one should I buy?
All Mk2 Insights are pretty much the same mechanically. Honda made a few tweaks as time went on (see History above), and as a result the later ones are a bit better to drive than the earlier editions (the suspension changes to the suspension in July 2010 improved the ride significantly), plus the cabin is finished to a slightly higher standard, but there's really not much in it.
Buyers could choose between SE, ES and EX trims, with even entry-level cars getting powered windows front and rear, 15-inch alloy wheels, climate control, power-adjustable heated and folding door mirrors, a multi-function steering wheel and a CD/radio tuner. For those who got lost easily, there was an SE-T model available which also included satellite navigation and Bluetooth.
Moving up to ES brought rear parking sensors, 16-inch alloys, front foglights, privacy glass, cruise control, heated front seats, automatic headlights and wipers, a rear armrest with cup-holder, plus a leather-covered steering wheel and gearknob. Again, there was an ES-T edition with improved connectivity.
The range-topping Insight EX also came with leather trim and voice control for the navigation, with the latter included as standard, along with Bluetooth.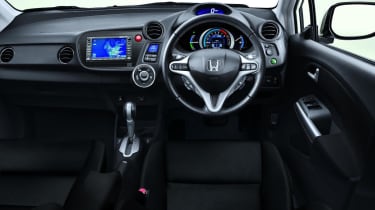 Alternatives
The Insight was created to go up against the Toyota Prius, and this was the key reason for the Insight's lack of sales success. While the Prius was more costly to buy, it felt like a better developed, higher-quality family car and it's certainly a more desirable used buy – and there are lots more of them to choose from.
Partnership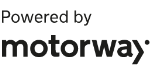 Need to sell your car?
Find your best offer from over 5,000+ dealers. It's that easy.
You can also buy a regular hybrid or a plug-in hybrid edition, along with a seven-seater (the Prius+) if you need to carry lots of people.
Alternatively, you could stick with Honda and buy a Jazz Hybrid, which is significantly smaller than the Insight, but just as reliable and potentially even more frugal.
Or, if you don't need hatchback practicality, you could buy a Civic Hybrid, which is essentially the same as the Insight mechanically, but everything is wrapped in a four-door saloon body. There aren't many Jazz Hybrids to choose from though, and the same goes for the Civic.
Other rivals are the unusual Vauxhall Ampera or the even rarer Chevrolet Volt plug-in hybrids, which were the same car with different badges. Strictly four-seaters, the Volt and Ampera look neat and offer hatchback usability, but parts availability is already a problem.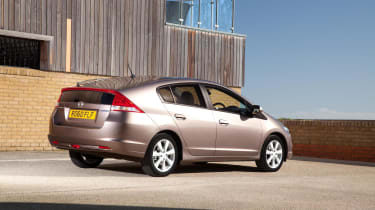 Verdict
The second-generation Insight wasn't all that impressive when it arrived and the passing of time hasn't done it any favours. It's certainly not a dog, but there are better cars out there vying for your money.
But there's also plenty to like about the Insight, not least of all its excellent reliability record, decent practicality and its low running costs. The key problem is that it feels so ordinary to drive and the interior is rather underwhelming.
As with any hybrid, you need to drive the car in a certain way to get the economy benefits of the petrol-electric powertrain, otherwise you're probably better off buying a diesel. But drive the car in the way it was designed to be driven and you could enjoy some family-friendly motoring for a lot less than you might think.
Checklist
•    Despite having a small petrol engine and a hybrid powertrain to back it up, initially the Insight wasn't eligible for free road tax due to its CO2 emissions of 105g/km. Later cars got below the magic 100g/km mark.
•    The Insight is as practical a hybrid as you'll find, with a boot that can hold 408 litres with the rear seats up. That's the same as the contemporary Toyota Prius.
•    Honda pared back the amount of soundproofing fitted to the Insight, to save weight. The result is a car that's surprisingly noisy on the motorway – and this can get wearing on long drives.
•    Some owners have experienced rattles as they drive their Insights – and it's often just the unlatched rear seatbelts. Do them up and the noises go away.
•    The battery packs seem to be lasting pretty well, but the earliest cars are getting on and failures are inevitable. If the pack does fail the car is still driveable – but there'll be a warning light on the dash and you'll be lugging around a load of weight and complexity that's not doing your economy any good whatsoever.
Recalls
October 2015: The driver's airbag could rupture in an impact.
April 2016: The driver's airbag can fail to deploy correctly.
February 2018: The passenger's airbag might fail to work properly.
January 2019: The passenger's airbag could fail to inflate in a crash.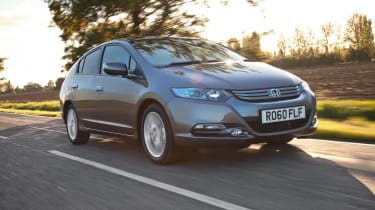 Running costs
•    Insurance groups: 15-16
•    Average mpg: 61.4mpg
•    CO2 emissions: 96-105g/km
The Insight came with a three-year warranty with a 90,000-mile limit, although the battery pack came with a separate eight-year or 100,000-mile guarantee. The service interval for the Insight Mk1 is set at 12 months or 12,500 miles, with the schedule alternating between minor and major, priced at £170 and £275 respectively at the time of writing (October 2019).
While the minor service is essentially just an oil and filter change with various other things inspected and adjusted, the major service also involves replacing the pollen and air filters along with the brake fluid. There's no cambelt fitted thanks to the use of a timing chain for the engine, while long-life coolant is used, so this is only replaced as and when is necessary.