New electric MINI Cooper E to debut at Munich Motor Show
The MINI Electric is set to be reborn later in 2023, with a new name and a 250-mile range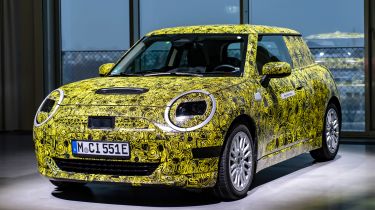 MINI is well on its way to becoming an all-electric brand by 2030 and this transition will go up a gear by the arrival of an all-new plug-in hatchback called the MINI Cooper at the Munich Motor Show in September. We've already experienced a passenger ride in a prototype model – keep reading for our first impressions.
With the Cooper nameplate once used to describe sporty versions of the brand's iconic hatchback, the new MINI Cooper will replace the outgoing Hatch model and will once again be offered in both petrol and electric forms.
Set to be badged MINI Cooper E, the electric car will utilise a larger 40kWh battery than the outgoing MINI Electric, and is expected to provide a range of around 200 miles. This is not all, however, as a sportier MINI Cooper SE will also be offered with a more powerful motor (possibly up to 215bhp) and a larger 54kWh battery pack, with range thought to increase to around 250 miles on a single charge.
It's also possible a high-performance electric John Cooper Works model could be offered, with even more power and a host of other performance upgrades. Regardless, all MINI Cooper E models are expected to offer charging speeds surpassing the current model's 50kW capacity.
Despite this increase in battery size, the new MINI Cooper E will not be any larger than the model it replaces. Spy photographs suggest the overall length will remain around 3,800mm, however interior packaging is set to improve – something that could rectify one of our biggest complaints about the outgoing car.
On the outside, MINI's latest supermini will maintain the long-running hatchbacks' cutesy, retro aesthetic, with round headlights featuring a revised LED light signature. At the rear, the new car will get all-new trapezoidal tail lights, once again featuring the controversial Union Flag insignia.
The biggest visual changes will occur on the inside, as the MINI Cooper E is set to debut the same disk-shaped central touchscreen as previewed in the MINI Aceman concept car. Like the infotainment system fitted to the current MINI Electric, you can expect the Cooper E's system to feature plenty of funky graphics and to be bolstered by a row of physical toggle switches.
In the pursuit of minimalism, the MINI Cooper E will get a head-up display in absence of a traditional instrument cluster. This will sit above a two-spoke steering wheel that's reminiscent of the one fitted to the original Morris Mini-Minor of the late fifties.
As mentioned, the MINI Cooper E is expected to be revealed at the 2023 Munich Motor show, alongside the all-new MINI Countryman which will also be offered with electric power. MINI plans for the Cooper E to go on sale in April 2024, and we estimate entry-level models will start from just over £30,000 – matching the price of rivals such as the Peugeot e-208 and Vauxhall Corsa Electric.
2024 MINI Cooper E prototype ride
When we attended the secret event with MINI last year, we were still 18 months away from the introduction of the fourth generation MINI Hatchback – the second to be available with electric power. While exact specifications remain under wraps for the time being, massive changes are coming in this latest iteration of the iconic car, which is set to be renamed MINI Cooper. To get a taste of what to expect, we headed to Sweden to experience the all-new MINI for the first time from the passenger seat.
The version we rode in was the more potent, longer-range model with its circa-50kWh battery and roughly 215bhp on tap. Before we climbed on board with MINI engineer Klaus Bramer, we took in the car's updated dimensions. The design is still secret, but former brand boss Bernd Koerber told DrivingElectric that he wanted to make the MINI 'mini' again. On first encounter, it's clear that this more or less translates to a car with a similar footprint, but much better packaging, than its predecessor.
It's ever so slightly shorter than the current model, but a longer wheelbase, a flat floor and shorter overhangs mean the new car makes more of its size when it comes to interior space. Bramer claims: "you can drive longer ranges with it. It's comfortable. You can also have passengers in the rear. It's more spacious than the last version."
At this stage of development, MINI was evaluating how the car's electric drivetrain, battery and charging react to extreme cold, while driving on snow-covered roads and prepped frozen lakes allows engineers to assess how the upcoming MINI Cooper E corners and ensure that it'll deliver the "go-kart handling" the compact hatchback is renowned for.
"We search all over the world for the worst scenarios," said Bramer, "and then we make sure that our car works in these conditions." Testing in hotter climates and high-speed calibration were yet to come at this stage, but alongside evaluating the systems in the cold, ensuring that the new MINI has a playful side is high up Bramer's to-do list.
"It is important for us that our fans like to drive it," he says, while explaining that the new platform has allowed a better centre of gravity and a slight reduction in weight. "We have a larger, wider track and wheelbase to make it more comfortable. With the centre of gravity we can make it more agile than the last one; it feels more playful."
The more powerful version will have a sportier set-up than the base model, and MINI's engineers are finalising this. We can't fully gauge how darty and nimble the car is from the passenger seat, but it took the ice in its stride, changing direction happily. With a while to go before it's unveiled, there's still plenty to come. But Bramer wasn't phased by the challenges. "We have 18 months to go and right now, it's driving pretty good. I'm pretty sure our customers will be happy with it," he claimed.
New Ford Explorer electric SUV revealed in full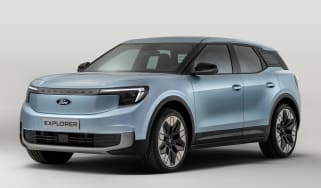 New Ford Explorer electric SUV revealed in full
New Ford Explorer electric SUV revealed in full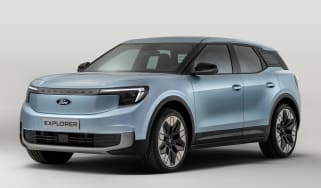 New Ford Explorer electric SUV revealed in full
Ford's new electric crossover boasts a range of more than 300 miles and will be built on the same platform as the Volkswagen ID.4 SUV
Electric car battery life: how to preserve your battery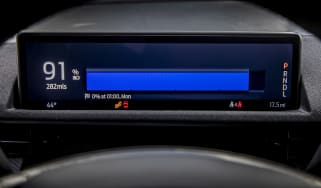 Electric car battery life: how to preserve your battery
Here's how to preserve your electric car's battery life and how much a replacement will cost if you need one
Top 10 best 4WD electric cars 2023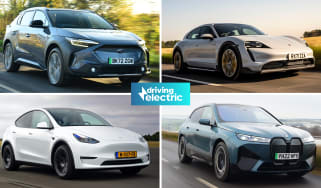 Top 10 best 4WD electric cars 2023
Whether you're looking to venture off-road, or just want some extra assurance in the winter months, we list the best four-wheel-drive electric cars on…