MINI Countryman hybrid boot space & seating
The MINI Countryman hybrid is one of the more practical plug-ins and should be big enough for small families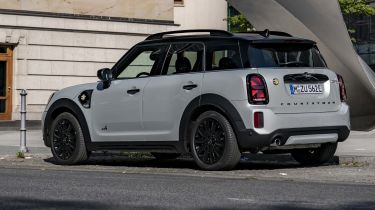 The MINI Countryman (which shares underpinnings with the BMW 2 Series Active Tourer) was designed from the start to include plug-in hybrid technology, so you don't give up too much interior space to all the extra equipment it needs. In fact, other than a little less headroom in the rear seats and a slightly smaller boot, this car is every bit as practical as the standard Countryman – and a match for rivals such as the Kia Niro PHEV or Toyota C-HR.
MINI Countryman hybrid interior space, storage & comfort
In the front, this hybrid model is just as spacious as the regular Countryman – and that means only relative giants will have any issue with the amount of space at their disposal. The main change in the hybrid version is that the rear seats are set slightly higher to accommodate the batteries; they also can't slide forwards and back, which is a shame. However, that's only a small sacrifice, and the high roofline means there's still plenty of headroom.
There are loads of places to put your odds and ends around the car, too. The pockets in the front and rear doors each take a one-litre drinks bottle and there's a storage compartment in the centre console. There are also two cup-holders beside the gear selector.
Boot space
As with passenger space, so with boot space: the hybrid has a little less room than in the regular Countryman, because the electric motor is under the floor. However, it'll still take 405 litres – 45 less than the normal Countryman – which is roughly on a par with standard family hatchbacks like the Volkswagen Golf. It's a little more boot space than in a Toyota C-HR (377 litres) and only a bit less than in the Kia Niro, which has a 427-litre luggage capacity.
The rear seats split and fold in a 40:20:40 configuration, so it's possible to travel with four adults and fit long items like skis or snowboards, although the adults in the back will feel squeezed for elbow space if you do this. Again, this hybrid has a little less space than a regular Countryman when you drop those rear seats – 1,275 litres rather than 1,390 – but that's still a decent amount, and not far off what you'll find in a Niro.
One further point to note is that the petrol tank has shrunk from 51 to 36 litres, but MINI claims the greater fuel economy of the Countryman hybrid should make up for this.