MINI Countryman hybrid range, MPG, CO2 & charging
A useful 30-mile range and low CO2 emissions make the Countryman competitive; real-world fuel efficiency will vary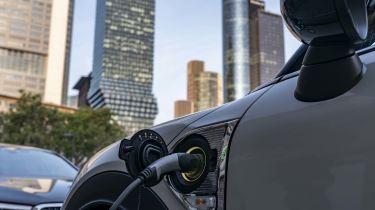 | Fuel economy | CO2 emissions | Electric range | Wallbox charge time |
| --- | --- | --- | --- |
| 149-166mpg | 40-44g/km | 29-32 miles | 2hrs 24mins (0-100%, 3.7kW) |
The MINI Countryman PHEV's official pure-electric range of 29 to 32 miles on a single charge is about equivalent to that of rivals such as the Kia Niro PHEV and Mitsubishi Outlander PHEV.
MINI Countryman hybrid range, MPG and CO2 emissions
According to the latest WLTP tests, the Countryman will cover an electric driving range of just over 30 miles from a full charge. You can expect to get about the same from a Mitsubishi Outlander PHEV, Kia Niro PHEV or Hyundai Ioniq Plug-In, and it should be enough for most people to complete their daily commute without using any fuel.
It's best to calculate your costs by first figuring out how much mileage you can cover easily within the MINI's maximum pure-electric range. Then assume a real-world fuel economy of around 35mpg for any mileage you'll be doing after that, which is what our colleagues at Auto Express achieved when they lived with the pre-facelift Countryman PHEV for six months.
It could also be a frustration that the MINI has a small 36-litre fuel tank, which will see you visiting the petrol station regularly on long trips. As with any plug-in hybrid, if you do a lot of short journeys and can charge regularly, you can enjoy virtually fuel-free motoring. If you do a lot of long journeys then an efficient diesel or petrol car could well prove cheaper to buy and run than a PHEV.
Charge time
The Countryman is supplied with a Type 2 charging cable for public chargers, and a three-pin cable for charging up from a normal domestic wall socket. Recharging the 7.6kWh battery should take around three hours and 48 minutes from a household socket, or two hours and 24 minutes from ahome wallbox.
The MINI's charging speed is capped to protect battery life, so there's no fast or rapid charging available regardless of how fast the charger you plug into is. The charging port in the MINI is on the car's passenger-side front wing, which is easy enough to access, but can be a bit of a pain if you can't park parallel to the charger.