Mercedes EQC: Living with it
We spend a couple of months living with the Mercedes EQC to find out of the world's oldest carmaker's first serious electric effort can justify its hefty price tag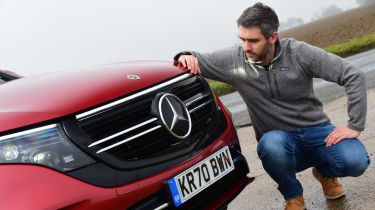 Report 1: Introducing our EQC
Even though we've only had our EQC for a short time, it's already clear that this is one of the most refined cars on sale today. Yes, it's on the pricey side, but with Mercedes going all-in on electric cars, what we've experienced so far is a good sign of what is to come for the prestigious brand – and for our time in the EQC.
We're currently seeing around 180 miles of range on a charge, which is a long way off the 252-mile official claim from Mercedes. But the EQC does charge faster than other electric cars we've tested, thanks to its 110kW charging capability; many other max out at 50kW.
This 2.5-tonne SUV was the first electric Mercedes to appear under the firm's new 'EQ' sub-brand. The 'C' part of its name illustrates where it sits within Mercedes' range of SUVs; it's comparable in size to the mid-range GLC. Unlike other brands and car groups like Volkswagen, Mercedes has held off developing a bespoke electric-car platform for now, instead choosing to adapt existing architecture from its combustion-engined cars: the V-Class-based EQV luxury MPV and GLA-based EQA compact SUV are both on sale in the UK now, too.
Now it's time to talk money. The EQC comes in either Sport or AMG Line trim; if you pick the latter, you can then add Premium or Premium Plus packs. Our example is the most expensive you can buy. All AMG Line cars, like ours, get LED lights, 20-inch wheels and leather seats, as well as acoustic glass and an automatic tailgate. Keyless go, pre-entry climate control and Mercedes' MBUX infotainment system (with sat nav and a reversing camera) are also included.
That's a hugely impressive amount of equipment, but this is where our first issue with the EQC arises. It's far from a cheap car to start with, beginning it £65,720 – or over £23,000 more than an entry-level diesel GLC. But to get even the most essential kit, you have to option the already-pricey EQC with those expensive packs.
The Premium Plus Pack brings everything listed above, plus a Parking Package with 360-degree cameras, a head-up display, and 12-way power-adjustable seats for an additional £2,250 on top of the Premium Pack price. On top of those, our car is fitted with the Driving Assistance Package, which costs £1,695, and Designo Hyacinth Red metallic paint, which adds £895 to the price.
This isn't just because Mercedes has some spare bits lying around and needs to flog them to you in a pack, like a restaurant serving you leftovers in a fresh stew. Rather, it's because the latest Worldwide Harmonised Light Vehicle Test Procedure (WLTP) fuel economy and emissions testing regime requires carmakers to test every combination of options before publishing numbers. So packaging wireless phone charging with a sunroof reduces the time and costs associated with testing the same model over and over again with different options fitted.
So, as we unpack the EQC and live with it, our goal is to find out which of these options are the most beneficial to you – and which ones can be ignored to save a bit of cash on your end.