Mercedes C-class hybrid saloon costs, insurance, warranty & tax
The C 300 hybrid models make most sense for company-car users; a diesel fallback is a welcome option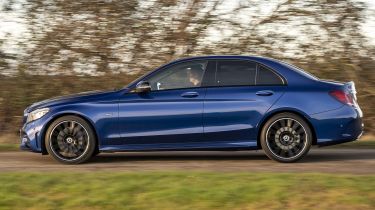 | Insurance group | Warranty | Service interval | 2021/22 company-car tax cost (20%/40%) |
| --- | --- | --- | --- |
| 40-43 | 3yrs / unlimited miles | 1yr / 12,000 miles | From £945 / £1,890 |
Plug-in hybrids – especially executive saloons like the C-Class – are targeted largely at company-car users, whose running costs depend heavily on quoted CO2 figures, which in turn dictate how much company-car tax they pay. The good news is that regardless of whether you go for the petrol or diesel plug-in hybrid C-Class, company-car tax is reasonable.
Both cars start in the 10% Benefit-in-Kind bracket. During the 2020/21 tax year, this equates to annual payments for 20% and 40% taxpayers of £955 or £1,909 respectively for the C 300 de, or £816 and £1,633 for the C 300 e. The petrol is cheaper by a decent margin, but if you do a lot of personal miles a year, the diesel could still make more sense.
It's harder to recommend either car for private buyers – most will be better off with a non-electrified petrol or diesel due to the differences in up-front costs. However, either could make sense if your driving habits match up perfectly with a plug-in hybrid.
Mercedes C-Class hybrid saloon insurance group
Depending on which model you chose, insurance ratings range from group 40 to 43. This means that the plug-in hybrid versions of the C-Class are likely to be more expensive to insure than some of their purely petrol or diesel- powered counterparts. Remember, insurance takes into account potential repair costs and performance: both the C 300 e and C 300 de feature complex electronics and not-insignificant power outputs.
Warranty
All Mercedes models are covered by a three-year/unlimited-mileage warranty. The battery is covered by a 'High Voltage Battery Certificate' which "covers any technical malfunction with the battery arising from an inherent manufacturing fault".
Servicing
Service intervals are largely determined by your annual mileage. Mercedes offers tailored service plans through its ServiceCare service to help spread the cost, with the option to pay for two, three or four services over one, two, three or four years.
Road tax
Both diesel and petrol versions of the C-Class hybrid are classed as 'alternative-fuel vehicles' and so are subject to a reduced annual VED rate of £145. However as both cost over £40,000 to buy, a surcharge of £335 is applied in years two to six of ownership, bringing the yearly total in that period to £480.