New Mercedes Vision AMG previews performance arm's electric future
More potent version of Mercedes Vision EQXX concept uses an all-new platform designed to underpin high-performance AMG electric cars
This is the new Mercedes Vision AMG concept. If it looks familiar, that's because it draws heavily on the Vision EQXX, an ultra-efficient electric prototype that recently completed a 626-mile journey from Germany to the south of France on a single charge. Unsurprisingly, the AMG version has other things on its mind. 
As you might expect, the Vision AMG's design is more aggressive than the Vision EQXX's, with a sharper nose, 22-inch alloy wheels and active rear wing all featuring. The car also wears a closed-off version of AMG's signature grille design, much like the AMG EQS 53, with illuminated slats.
Under the futuristic bodywork is an AMG-specific electric-car platform called AMG.EA. It's powered by a lightweight and compact electric motor designed to provide "substantially more power than conventional electric motors". Mercedes hasn't revealed any technical details about the Vision AMG yet, but it has emphasised that all of its key components have been developed exclusively for use in high-performance EVs.
We expect some of the Vision AMG's statistics will be similar to the EQXX's, including a battery capacity of just under 100kWh and 900v-plus electrical architecture that should allow for over 300kW rapid charging. However, the Vision AMG will certainly produce more power than the EQXX's relatively modest 201bhp, with sources indicating it could have close to 1,000bhp on tap.
"With this study, we are now offering a first glimpse of how we are transferring the AMG DNA into the all-electric future, starting in 2025," said Mercedes-AMG's CEO Philipp Schiemer. He added regarding AMG's future EVs: "We're developing everything from scratch, from the dedicated AMG.EA platform to the revolutionary drivetrain technology with which we'll take performance electric mobility to a whole new level."
This isn't the first electric car the AMG boffins have had their hands on, with high-performance versions of the Mercedes EQS and EQE saloons now on sale. The German carmaker's performance arm is also embracing hybrid technology with the plug-in GT 4-Door 63 S E-Performance and the £2.4 million AMG One hypercar.
BMW i4 facelift to topple Tesla with huge range and tech upgrades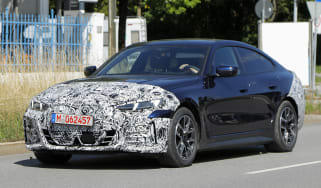 BMW i4 facelift to topple Tesla with huge range and tech upgrades
An updated version of the BMW i4 has been spotted testing, likely sporting a longer range and the latest technology
We've had a ride in the new electric MG Cyberster and it's NOT what we first thought…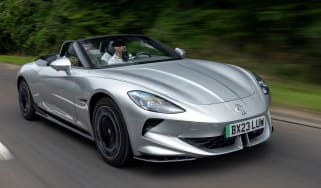 We've had a ride in the new electric MG Cyberster and it's NOT what we first thought…
The MG Cyberster is due to go on sale next year with up to 536bhp and scissor doors – and we've already had a ride in it