New Maxus eDeliver 3 electric van: specs and prices for renamed EV30
The LDV EV30 electric van has been rebranded as the Maxus eDeliver 3, with three variants offered across two wheelbase lengths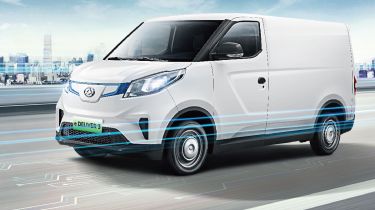 The Chinese-owned commercial-vehicle brand Maxus, which rebranded from LDV in April 2020, has announced full details of its new eDeliver 3 compact electric van. It joins the larger LDV EV80, which is not being renamed, in the range.
Originally unveiled as the LDV EV30 at the 2019 CV Show in Birmingham, the eDeliver 3 is pitched as a rival to the Renault Kangoo Z.E. and Nissan e-NV200. Both short and long-wheelbase versions, and two different battery capacities, are available, while a long-wheelbase platform chassis version allows the fitting of custom bodywork or equipment.
UK pricing starts at £22,800 excluding VAT, but including the government plug-in van grant. Deliveries of the eDeliver 3 began in July 2020 in short-wheelbase form; the platform chassis followed in the third quarter of the year and the long-wheelbase panel van is available now, too.
In the cheapest version, a 35kWh battery returns 93-98 miles' range depending on wheelbase, while the larger 53kWh battery boosts that to 142-149 miles depending on wheelbase. Fast charging to 80% capacity can be completed in as little as 45 minutes, while charging from a standard socket takes six hours for the 35kWh battery and eight hours for the 53kWh model.
The eDeliver 3 is front-wheel drive with a 114bhp/255Nm electric motor, giving it a top speed of 79mph and a 0-31mph time of five seconds. Acceleration from zero to 62mph takes from 11 to 13 seconds depending on the exact version.
The short-wheelbase (SWB) version can take 4.8 cubic metres of cargo and has a 2.18-metre long cargo space, while the long-wheelbase (LWB) model boosts that to 6.3 cubic metres and a 2.77-metre length. Both have a floor height of 1.33 metres, a floor width of 1.66 metres and a width between their wheelarches of 1.22 metres.
Maximum payload increases as you move up the range, with the SWB 35kWh managing 865kg and the LWB 35kWh carrying 1,020kg. With the 53kWh battery, the respective figures are 905 and 990kg.