New Maxus T90EV is the first electric pickup truck on sale in the UK
The Ford Ranger-sized electric pickup truck has a claimed range of 196 miles in city driving, with order books set to open in August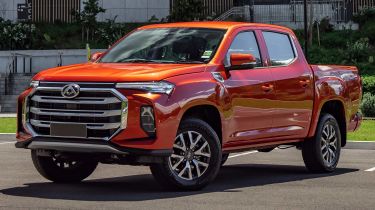 Electric pickup trucks are nothing new; the Rivian R1T, Ford F-150 Lightning and Hummer EV all went into production in the past year. However, the new Maxus T90EV will be the first zero-emissions pickup to officially go on sale in the UK when order books open in August.
The T90EV is based on a combustion-engine model, so this isn't a bespoke electric truck like the Rivian. In place of the original T90's running gear you get an 89kWh battery located under the chassis, which is enough for a range of 196 miles on the WLTP city test, according to Maxus. We therefore expect the T90EV will be able to cover around 130 miles on a charge in mixed driving conditions.
Compare that to the Rivian R1T which has a 314-mile range on the American EPA test cycle when fitted with a 135kWh battery. Meanwhile, the Ford F-150 Lightning can cover over 230 miles in standard-range form, equipped with a 98kWh battery. Charging speeds for the T90EV have yet to be revealed.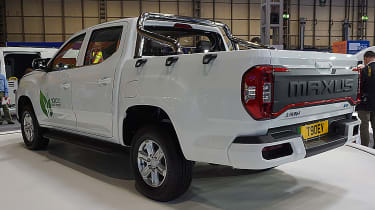 The Maxus' battery feeds a single 201bhp electric motor on the rear axle, making the T90EV rear-wheel drive only – unlike the Rivian, Ford or Hummer. Plus, the T90EV's maximum payload capacity is limited to 740kg, which means it can't carry the one-tonne required by UK legislation for it to qualify as a commercial vehicle. As a result, businesses can't reclaim VAT after purchasing one and are not eligible for the flat rate commercial vehicle company car tax.
The T90EV comes in a double cab bodystyle, with fairly ordinary pickup truck styling. The truck measures 5,365mm x 1,900mm x 1,809mm, which is about the same size as the Ford Ranger, but T90EV's cargo bed is smaller with a load length of less than 1.5 metres. The bed's maximum load capacity, and the truck's towing capabilities, remain under wraps at the time of writing.
Standard kit includes a 10.25-inch digital touchscreen, reversing camera, LED daytime running lights, 17-inch alloy wheels and a bed-mounted roll bar. First deliveries are set to begin in early 2023. In addition to the T90EV, Maxus has launched the Mifa 9 eight-seat minibus, which will also go on sale in August.
SAIC Maxus Mifa 9 eight-seater electric MPV to go on sale in UK in August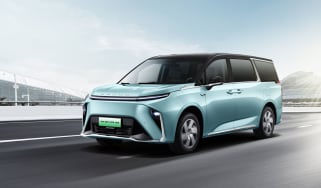 SAIC Maxus Mifa 9 eight-seater electric MPV to go on sale in UK in August
Top 10 best seven-seater electric and hybrid cars 2022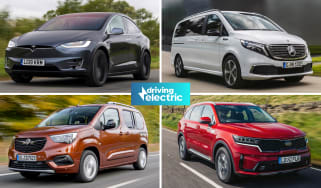 Top 10 best seven-seater electric and hybrid cars 2022
If the regular crop of electrified SUVs and family cars don't provide enough practicality for you, then take a closer look at the range of electric an…
Top 10 cheapest electric cars 2022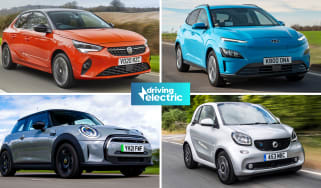 Top 10 cheapest electric cars 2022
Contrary to popular opinion, not all electric cars are expensive. Here are the cheapest ones available in the UK right now
New electric cars coming in 2022 and beyond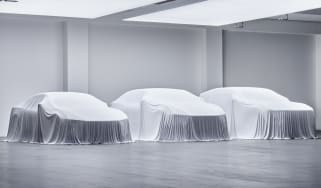 New electric cars coming in 2022 and beyond
With electric cars making up an ever-increasing proportion of sales, the industry is working flat out to launch new models – here's what's on the way …