2022 Ford F-150 Lightning: commercial Lightning Pro model unveiled
One of the world's most popular vehicles has gone electric: the Ford F-150 Lightning produces over 1,050Nm of torque and 555bhp and features hands-free driving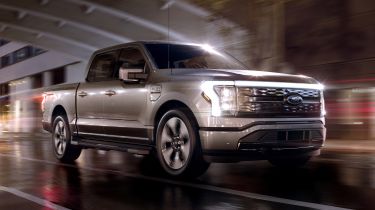 This is the Ford F-150 Lightning: the all-electric variant of the world's best-selling pickup truck. When it arrives in 2022, the F-150 Lightning will take on the likes of the Rivian R1T, Tesla Cybertruck and the Hummer EV pickup on the American market.
From launch, both the regular and commercial Pro models will be available with a standard and long-range powertrain, capable of 230 and 300 miles respectively according to the American EPA test cycle. All F-150 Lightning models feature a dual-motor setup with all-wheel drive that can produce over 1,050Nm of torque.
Standard-range models have a power output of 420bhp, while the long-range F-150 Lightning produces 555bhp and has a 0-62mph time in the mid-four-second range, according to Ford. US President Joe Biden became one of the first people outside Ford to drive the pickup during a visit to its production facility, declaring to reporters that "this sucker's quick" and indicating a 0-60mph time of 4.3 or 4.4 seconds.
All F-150 Lightning models will also be capable of charging at speeds up 150kW, which at those speeds will add 41 miles of range in 10 minutes. Recharging the standard-range model from 15-80% on a DC rapid charger capable of those speeds will only take 41 minutes, or 44 minutes for the long-range version.
The standard-range F-150 Lightning has a slightly higher maximum payload of 907kg, which is roughly 100kg more than the long-range model. There are also scales in the truck's bed that can detect the payload weight and adjust the Lightning's range estimate on the dashboard accordingly.
And as there's no engine, there's a 400-litre 'frunk' under the bonnet. Plus, the F-150 Lightning also features built-in electrical outlets in both storage areas that allow you to power tools and other equipment from the truck's battery.
Inside, the F-150 Lightning comes as standard with a digital 12-inch portrait information display for the driver, which can be upgraded to a 15.5-inch unit similar to the one featured in the Ford Mustang Mach-E SUV. Apple CarPlay and Android Auto are also standard across the range.
Higher-spec Lightning models feature Ford's 'BlueCruise' hands-free driving system, which can be activated on certain stretches of US and Canadian highways. Unlike Tesla's Autopilot, BlueCruise is totally hands-free, but it can only be engaged on pre-programmed roads, with 100,000 miles already designated 'hands-free zones' and more to be included soon. 
All models come with a host of safety features, including pre-collision assistance, lane-keeping assistance, a rear-view camera and blind-spot monitoring. 
Then, there's the commercial version of the electric pickup called the F-150 Lightning Pro. The Pro model features the smaller 12-inch infotainment screen, but comes as standard with Ford's Co-Pilot360 2.0 safety and driver assist systems, onboard scales, rapid charging capabilities and the Pro Power Onboard function to power tools and other equipment. 
Prices for standard range F-150 Lightning Pro start at $39,974 (£28,330) before taxes or tax incentives. However, you can upgrade extended-range powertrain for an additional $10,000 (£7,000).
Ford has also announced the price for the XLT trim models, which will start at $52,974 (£37,544). Although starting prices for the more expensive Lariat and Platinum trim levels have not been disclosed yet. 
Deliveries of the F-150 Lightning to customers will begin in 2022, but we don't expect the F-150 to go on sale in the UK due to its size. However, its technology could be carried over to the smaller Ford Ranger model, which is available in the UK.
Top 10 best seven-seater electric and hybrid cars 2022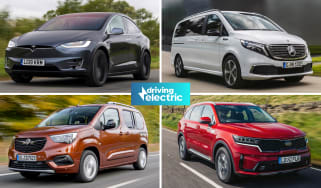 Top 10 best seven-seater electric and hybrid cars 2022
If the regular crop of electrified SUVs and family cars don't provide enough practicality for you, then take a closer look at the range of electric an…
Top 10 cheapest electric cars 2022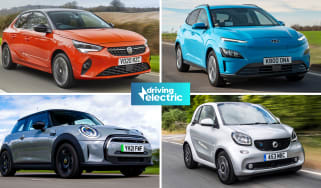 Top 10 cheapest electric cars 2022
Contrary to popular opinion, not all electric cars are expensive. Here are the cheapest ones available in the UK right now
1,972bhp Ford Electric SuperVan can do 0-62mph in under two seconds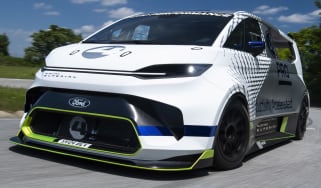 1,972bhp Ford Electric SuperVan can do 0-62mph in under two seconds
Based on the new E-Transit Custom, the Electric SuperVan has made its debut 2022 Goodwood Festival of Speed