Rivian R1T electric pickup: details, specs and first-ride review
Rivian's Tesla Cybertruck-rivalling R1T is now in production in the US, and we've had our first chance to ride in one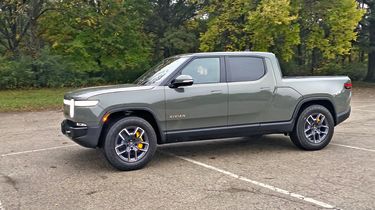 A new electric pickup truck from US startup Rivian was launched at the 2018 Los Angeles Motor Show, giving Elon Musk's Tesla Cybertruck a rival before it has arrived. Called the R1T, it's a five-seater, 5.5-metre long pickup that'll eventually be available with three different battery sizes, offering a range of between 250 and over 400 miles, as well as 200kW rapid-charging capability.
Acceleration from 0-60mph takes as little as three seconds, despite the R1T's significant 2.6-tonne weight. This is thanks to four electric motors developing the equivalent of 197bhp and an enormous 14,000Nm of torque. As well as rapid acceleration, the four-motor setup also promises strong off-road capability – a key requirement for US pickup customers. Adjustable air suspension allows for a maximum ground clearance of 360mm and the R1T has a wading depth of a metre.
The R1T joins the R1S SUV in the US start-up's fledgling range. It and the SUV variant were scheduled to start production in late 2020 at a former Mitsubishi factory in the US state of Illinois, but that was pushed back to 2021 due to production delays arising from the pandemic. First customer deliveries of the R1T took place in October 2021.
Right-hand-drive versions of both models haven't been confirmed yet, but could start to appear approximately 12 months after production for the US domestic market begins, which would currently mean the latter end of 2022. The UK has also been mooted as a potential location for a Rivian factory in the future.
Rivian R1T first-ride review
For our first time in the R1T, we rode in a Large Pack model, which is the only battery size available initially. This 135kWh unit gives a driving range of 314 miles on a full charge according to US EPA (Environmental Protection Agency) testing. A smaller 105kWh battery, and an even larger unit called the Max Pack, will be used in forthcoming cheaper and even longer-range (up to nearly 400 miles) variants of the truck.
Inside, the R1T feels a lot more upmarket than the rather utilitarian surroundings that diesel pickup-truck drivers are accustomed to. There are vegan leather seats and an impressive dual-screen dashboard layout: one for the driver and a massive central screen for the infotainment. Up top, a big panoramic glass roof keeps the interior feeling light and airy.
On the move, we immediately felt the difference of the Rivian's four-motor setup – one on each wheel – compared to a typical dual-motor electric car, with the motors in the centre of each axle. It glides along the road like a smaller passenger car, helped no doubt by the torque vectoring system precisely adjusting the amount of power each wheel receives to ensure smooth and steady progress on almost any terrain.
And that's just the regular 'all-purpose' driving mode; there's also a Sport mode that gives you access to the four motors' entire 743bhp output. A pickup truck with more power than most supercars is certainly a giddy prospect, and it takes off with startling rapidity in this mode. But really, that's just a one-off party trick; Rivian intends for slower but no less impressive progress on harsh off-road terrain to be the R1T's real calling card. That's one aspect we haven't been able to sample yet.
Tesla Supercharger network: complete guide to Tesla charging stations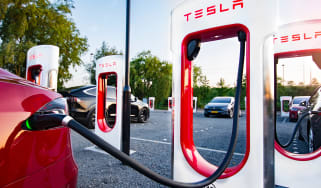 Tesla Supercharger network: complete guide to Tesla charging stations
The Tesla Supercharger network is expanding fast, providing reliable rapid charging throughout the UK to Tesla and non-Tesla owners alike
Where can I buy hydrogen and where is my nearest hydrogen filling station?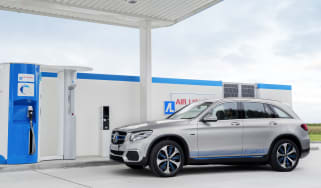 Where can I buy hydrogen and where is my nearest hydrogen filling station?
A guide to where you can find UK hydrogen fuel stations for filling up a hydrogen fuel-cell car
Top 10 best electric SUVs 2022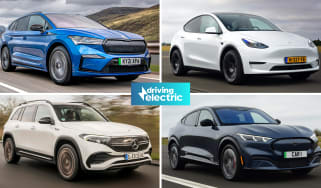 Top 10 best electric SUVs 2022
Electric SUVs combine style and practicality with low running costs, making them a very popular choice in the UK. Here are our top 10 favourites to bu…