New Maserati GranTurismo Folgore electric makes public debut at Rome Formula E race
Electric GranTurismo is one of three 'Folgore'-badged EVs from Maserati that'll arrive in 2023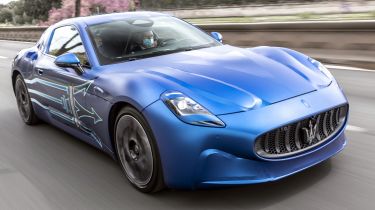 The Maserati GranTurismo Folgore electric GT car has made its first public appearance at the Rome round of the Formula E electric single-seater series, which the Italian brand is set to join from next season. Carlos Tavares, who is CEO of Maserati's parent group Stellantis, drove a prototype of the upcoming model around the street circuit laid out in the Italian capital. 
Maserati released the first testing shots of the GranTurismo Folgore during 2021, and shortly afterward its head of product planning, Francesco Tonon, revealed that the car's triple-motor setup will deliver "way more than 1,200bhp" along with all-wheel drive, which will result in a 0-62mph time of less than three seconds and a top speed of more than 186mph.
We've yet to hear any estimates of how far the flagship EV will go on a charge, but Tonon did say that the maximum range will be "satisfying for our customers". Under the metal, the electric GT will feature technology derived from Formula E, including what the brand calls a "bone" battery that it claims will improve weight distribution and the car's centre of gravity.
Speaking about the potential noise made by future Maserati EVs, Tonon said that in the Folgore models "you will not hear a fake V6 sound, it's about being authentic. The engine is different, so we took the electric motors and we tuned this sound to be a truly raw Maserati. It's not fake. It started with the electric motor sound tuned to be iconic, unique and Maserati."
The 'Folgore' badge debuting on the GranTurismo will be worn by all electric Maseratis; it means 'lightning' in Italian. As well as the GranTurismo Folgore, 2023 will also see the launch of the GranCabrio Folgore convertible and an electric version of the Grecale compact SUV.
By 2025, the Italian luxury carmaker's EV line-up will also include a zero-emissions version of its MC20 supercar, as well as the next iterations of the Levante SUV and Quattroporte saloon, which will both be electric-only and boast Level 3 autonomous-driving capability.
The latter two are expected to use Maserati parent group Stellantis' new EV-dedicated 'STLA Medium' platform, which the company claims will allow for a range of up to 440 miles. The electric GranTurismo, GranCabrio and Grecale, however, will not use those underpinnings, in order to preserve their identity as Maseratis, according to the brand.
Top 10 best plug-in hybrid SUVs 2022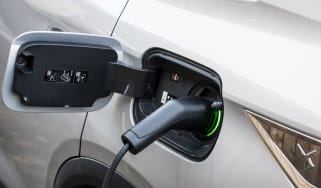 Top 10 best plug-in hybrid SUVs 2022
The finest plug-in hybrid SUVs offer low running costs, enough electric range for daily use and excellent practicality. These are the best plug-in hyb…
Top 10 best hybrid cars 2022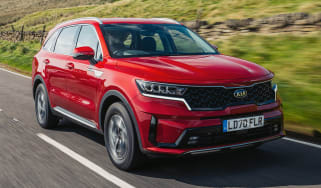 Top 10 best hybrid cars 2022
The best hybrid cars on sale in the UK right now will help reduce your fuel bills without needing to be plugged in. These are our favourites...
Best electric-car deals UK 2022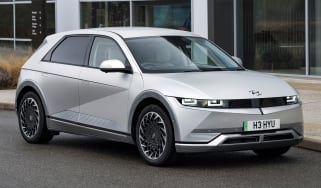 Best electric-car deals UK 2022
Looking to buy a new electric car using Personal Contract Purchase (PCP) finance? Here are the deals on offer from electric-car manufacturers right no…