New AEHRA luxury car brand to launch all-electric SUV
AEHRA plans to "rewrite the automotive design rulebook" with "state-of-the-art" EV technology
AEHRA, a new Italian luxury car brand is aiming to make waves in the electric SUV market with its first car. The as-yet-unnamed SUV is expected to be priced from around £157,000 when it goes on sale in 2025, with potential rivals including the Mercedes EQS SUV, Lotus Eletre, Lucid Gravity and forthcoming Range Rover EV.
Exterior images of AEHRA's SUV showcase its striking shape. The curved design incorporates very short front and rear overhangs and a coupe-like taper towards the rear. There is an exceptionally long swooping windscreen that appears almost as if it's one piece, reaching from the back of the car, over the top, and past the front wheels. AEHRA also says the wing mirrors are designed to resemble those of racing motorbikes; the entire design has an emphasis on aerodynamic efficiency, with smooth doors lacking any protruding door handles.
AEHRA says those doors open in an "elytra-like" fashion – like the wings of a beetle. These open up and out, adding an element of drama to the sleek design, but should also make entry and exit easier for occupants. The car should be able to accommodate "four full-size [basketball] players, while leaving room for a six-foot tall adult in the middle of the rear seat row," according to its makers.
AEHRA claims the electric SUV will target a range of at least 800km (497 miles) through the use of "leading-edge battery platform technology". It's expected to have a big 120kWh battery, which would make it one of the largest of any production electric car, with the battery sitting in the middle of a long three-metre wheelbase.
That battery will power three electric motors – one on the front axle, and two on the rear – producing up to 850bhp, with the newly established brand claiming its SUV will offer "awe-inspiring performance" and "exceptional agility and driving pleasure". Meanwhile, Porsche Taycan-beating 850-volt charging technology will be used to deliver ultra-rapid charging speeds.
AEHRA plans to build its cars with its environmental impact in mind throughout. Its models will be constructed with components and materials that are easily recyclable and more environmentally friendly. The brand also says it will install the latest safety systems in its cars, but that autonomous driving is not at the forefront of its plans for now. 
The brand's second car will be a saloon that's currently scheduled to be unveiled in early 2023. The saloon – which is yet to be named either – will be based on the same underpinnings as its upcoming SUV and cheaper, too. Both of these EVs are planned to reach global markets by 2025 and will be available to purchase online or through AEHRA's distributor network. But AEHRA has also said there are plans for a 2+2 sports car that'll utilise a shortened version of its modular platform.
New Audi Q6 e-tron electric SUV spotted ahead of 2023 debut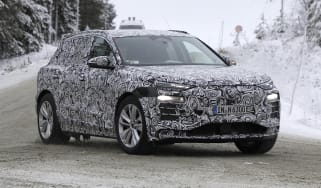 New Audi Q6 e-tron electric SUV spotted ahead of 2023 debut
New Vauxhall Astra Electric hatchback and estate unveiled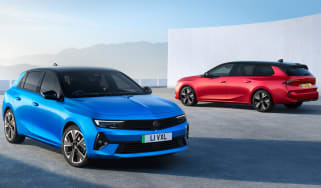 New Vauxhall Astra Electric hatchback and estate unveiled
Volkswagen ID.3 facelift due in spring 2023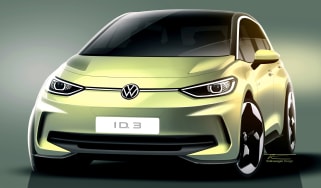 Volkswagen ID.3 facelift due in spring 2023
New sketches provide a glimpse at refreshed styling and cabin of Volkswagen's electric family hatchback
New Vauxhall Astra Electric hatchback and estate unveiled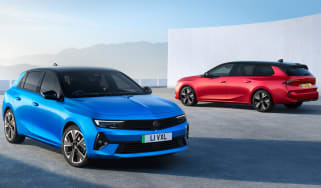 New Vauxhall Astra Electric hatchback and estate unveiled
The new Astra Electric and Astra Sport Tourer Electric go on sale in early 2023, with prices expected to start from between £35,000 and £40,000