New 2021 Kia EV6 electric SUV: pictures, price, range and on-sale date
Kia's flagship electric car is capable of up to 328 miles on a single charge and recharging from 10-80% in just 18 minutes; available to order in the UK now with prices starting from £40,895
Kia has confirmed that its new EV6 electric flagship is capable of up to 328 miles on a charge. All UK models of the EV6 will use a 77.4kWh battery, with the option of rear or all-wheel drive – meaning a maximum range of 328 and 314 miles respectively. UK order books for the Kia EV6 are now open, with deliveries expected from October.
All EV6s also get an 800V ultra-rapid charging system – the same as the Hyundai Ioniq 5, the Porsche Taycan and Audi e-tron GT. That means you can recharge at speeds of up to 239kW, and if you're able to find one of the 350kW ultra-rapid charging points capable of those speeds, you'll be able to go from 10-80% charge in just 18 minutes. 
The brand's first 'clean-sheet' electric car starts at £40,895 for the rear-wheel-drive entry-level model. The GT-Line is expected to make up most of sales in the UK and will start at £43,895 with rear-wheel drive and £47,395 in all-wheel-drive form. Above those will be the GT-Line S; also available with rear or all-wheel drive, priced at £48,395 and £51,895 respectively.
Finally, the all-wheel-drive, 576bhp EV6 GT will top off the range with a starting price of £58,295, but that particular model won't be arriving until the second half of 2022.
The EV6 uses the same E-GMP mechanical platform as the Hyundai Ioniq 5 from Kia's sister brand, which we've recently driven. Thanks to the EV-dedicated platform, Kia has been able to maximise legroom in the EV6; with more legroom on offer for front and rear passengers in the Kia than a Range Rover. 
Kia has confirmed that all versions of the EV6 sold in the UK will also come as standard with a curved panoramic display with dual 12.3-inch touchscreens, equipped with Apple CarPlay and Android Auto. 
The EV6 will be available in other markets with a smaller 58kWh battery, but this won't be offered in the UK.
Kia EV6 range, battery, power and performance
The entry-level EV6 will use the same 77.4kWh battery as the rest of the range, sending power to a 226bhp rear-mounted electric motor. Rear-wheel-drive EV6 models will be capable of 328 miles of range on a charge.
The GT-Line also uses the same battery and electric motor in rear-wheel-drive form. But if you upgrade to the all-wheel-drive model, your EV6 will come with an additional 93bhp motor on the front axle, for a total power output of 321bhp. All-wheel-drive versions of the EV6 have a 314-mile range. The same powertrain combinations will be available for the more expensive GT-Line S. 
If you're after something even more potent, Kia has also announced the EV6 GT, a high-performance version of the car capable of 0-60mph in 3.5 seconds with a top speed of over 160mph. This variant will produce 576bhp and 740Nm of torque, thanks to even more powerful dual motors (one on the front and one on the rear axle). It can also be pre-ordered now, but deliveries won't happen until October 2022. Range figures have yet to be announced for the EV6 GT. 
One important feature of the EV6 is the 800V charging system, which will let you add 60 miles of range in under five minutes – as long as you can find a fast enough DC public charger. That's because to go from 10-80% capacity in 18 minutes, you'll need to use one of the few 350kW ultra-rapid charging points in the UK as the maximum charging speed for the EV6 is 239kW. 
The EV6 will support 400V charging, like most electric cars. Kia has yet to disclose charging times for the EV6 at any other speeds, like the 7.4kW you ordinarily get from a home walbox. 
The EV6 also features a vehicle-to-load (V2L) function on the higher spec GT-Line model and above, which will allow you to charge other items using the EV6's battery. While Kia says you could use it to power large electronics like TVs, it would also be possible to charge another electric car using the EV6's own battery. The EV6 will also be capable of one-pedal driving, which Kia calls 'i-Pedal' driving mode. This increases regenerative braking so you only need to use one foot in certain driving scenarios.
Design
The EV6 is the first car to be designed using Kia's new 'Opposites United' design philosophy. The EV6 features a distinctive SUV-like shape, but with a coupe-like roofline – similar to the Ford Mustang Mach-E. It also has a short nose, slim LED headlights and features Kia's new logo on the bonnet above a thin strip that runs between the headlights.
Scrolling indicators and animated tail-lights span the full width of the car at the rear. A roof spoiler houses a high-level brake light, and then there's a flat space with the Kia logo on the boot door. Black trim runs around the bottom of the car and incorporates chunky wheel arches that add to the SUV-like shape.
Interior and technology
The interior of the EV6 is similarly impressive, featuring dual 12.3-inch displays, as well as projectors to display key driving information on the windscreen of your line of sight. The seats also aren't leather; instead, Kia has chosen to use recycled materials – each EV6 contains the equivalent of 111 repurposed plastic water bottles.
The EV6 will also include a host of driver safety and assistance systems. Although not as advanced as Tesla's Autopilot, the EV6's system will maintain speed and distance on motorways and keep it in the centre of the lane.
Price, equipment and on-sale date
The entry-level Kia EV6 will start at £40,895 with its 77.4kWh battery and 226bhp motor. For that price, the EV6 gets 19-inch diamond-cut alloy wheels, LED headlights, ambient lighting and black vegan upholstery, as well as heated front seats and steering wheel, parking sensors, highway driving assist and automatic emergency braking.
Above the base model is the EV6 GT-Line, starting at £43,895 in rear-wheel-drive form, or £47,395 if you spring for all-wheel drive. Kia expects GT-Line will make up the majority of EV6 sales in the UK. Exterior and interior styling changes set it apart from the base model, along with black suede and vegan leather upholstery, premium relaxation seats, wireless smartphone charging, blind-spot monitoring and vehicle-to-load charging. 
The final EV6 arriving this year is the GT-Line S, which comes with 20-inch alloy wheels, heated and ventilated seats, a powered tailgate, a panoramic sunroof, a 14-speaker Meridian audio system and an augmented-reality (AR) head-up display. Additional safety features include 'Highway Driving Assist' active cruise control and a parking collision avoidance system. Rear-wheel-drive GT-Line S cars start at £48,395, while the all-wheel-drive GT-Line S starts at £51,895.
Finally, arriving in late 2022 will be the top-of-the-range EV6 GT, with prices starting from £58,295. Aside from its dual-motor setup that produces 576bhp and a 3.5 second 0-62mph time, the GT also comes with specific exterior styling, 21-inch alloy wheels, bucket seats, electronically controlled suspension and an electronic limited-slip differential. The GT will also be available with premium paint options. It'll additionally come as standard with a battery heat pump, which is used to maximise driving range in cool temperatures. The same item will also be an option on the GT-Line and GT-Line S. 
First UK deliveries of the EV6 are expected to begin in October 2021, while the first EV6 GT models won't be arriving until October 2022.
Top 10 best plug-in hybrid SUVs 2022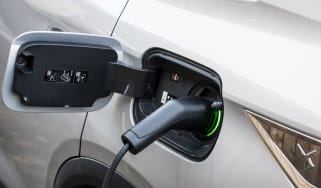 Top 10 best plug-in hybrid SUVs 2022
The finest plug-in hybrid SUVs offer low running costs, enough electric range for daily use and excellent practicality. These are the best plug-in hyb…
Top 10 best plug-in hybrid cars 2022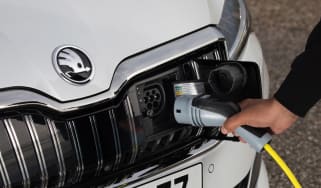 Top 10 best plug-in hybrid cars 2022
Plug-in hybrid cars are great for keeping fuel and company-car tax bills low. Here are the best ones to buy in the UK right now
Top 10 best luxury electric cars 2022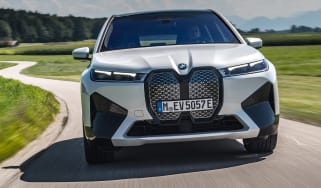 Top 10 best luxury electric cars 2022
From Audi to Tesla, here are our top picks of the most luxurious zero-emissions motoring options on the market right now