1,972bhp Ford Electric SuperVan can do 0-62mph in under two seconds
Based on the new E-Transit Custom, the Electric SuperVan has made its debut 2022 Goodwood Festival of Speed
Ford has a long and storied history of creating hugely powerful modified versions of the humble Transit van for promotional purposes. The first SuperVan famously used the running gear from the Le Mans-conquering GT40 racing car, so how was Ford going to top that? By stuffing four electric motors making nearly 2,000bhp into the mid-size E-Transit Custom, obviously.
The Ford Pro Electric SuperVan, to use the radical show vehicle's full name, uses the floorplan and some styling elements of the new E-Transit Custom, which was unveiled in May. But other than that, unsurprisingly, the Electric SuperVan has very little in common with the production version of the van that's arriving in 2023.
Under the lightweight composite body panels is a bespoke spaceframe chassis, double wishbone suspension, a liquid-cooled 50kWh battery and four electric motors – one for each wheel. As a result, the first zero-emissions SuperVan has around 1,972bhp on tap, along with all-wheel drive and a 0-62mph time of less than two seconds. There's still some cargo space behind the driver, though, as you'd expect from a Transit, plus the Mustang Mach-E's 15.5-inch SYNC 4 touchscreen up front.
The Electric SuperVan has also been fitted with several on-board cameras to record its runs, a full rollcage and racing seats to meet FIA regulations, plus five unique drive modes – Road, Track, Drift, Drag and Rally – that alter the van's torque delivery, regenerative braking and control responses.
It's not just under the metal – or lightweight composite as it were – where Ford and Austrian competition-car specialist STARD have turned up the wick. The extreme one-off EV features a front splitter, side skirts, flared wheelarches and a rear diffuser, while air is channelled towards the rear wing by an enormous 'dorsal fin' and 'flying buttresses', made by carving away much of the van's side panels.
Over the course of the 2022 Goodwood Festival of Speed weekend, the Electric SuperVan will take on the event's famous hillclimb course, with racer Romain Dumas – who previously piloted Volkswagen's record-breaking ID.R hillclimb prototype – at the wheel.
Ford's SuperVans: the story so far
The first SuperVan from 1971 paired the body of a regular Transit van with the chassis and 400bhp V8 engine of the brand's GT40 racing car. It also got extremely flared wheelarches to fit larger wheels and tyres all round, and Ford's classic blue-and-white stripe livery.
The 1984 SuperVan 2 was much more radical. Under a fibreglass Transit body, which featured a spoiler, huge air intakes and a front splitter, was a Ford C100 racing-car chassis and 590bhp Cosworth V8 engine. Top speed was reportedly 174mph. In 1994, the SuperVan 3 took the same C100 chassis, but added a new body and a 650bhp 3.5-litre Ford-Cosworth V6.
Electric Renault 5: prices, 2024 launch date and teaser images of the MINI Cooper rival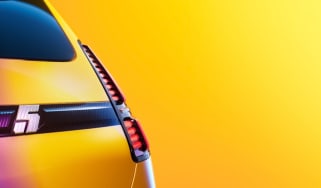 Electric Renault 5: prices, 2024 launch date and teaser images of the MINI Cooper rival
New Fisker Ocean Sport washes up in the UK: £36k for a 288-mile range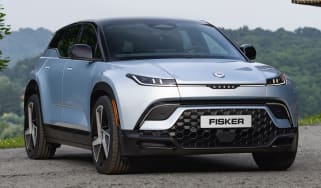 New Fisker Ocean Sport washes up in the UK: £36k for a 288-mile range
American EV startup Fisker has just launched its entry-level Ocean SUV in the UK, with a range of up to 288 miles
Big price cut: Electric Renault Megane prices slashed in time for Christmas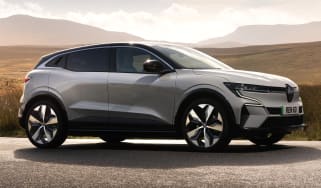 Big price cut: Electric Renault Megane prices slashed in time for Christmas
Renault Megane E-Tech gets a price drop of up to £3,500, bringing the starting price to just £34,495