Ford Transit hybrid priced from £39,145
Plug-in hybrid version of the Ford Transit Custom van to return 35 miles of electric range; order books open now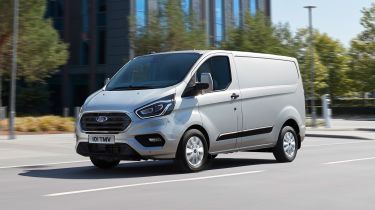 The Ford Transit Custom Plug-In Hybrid will cost from £39,145 in the UK, the manufacturer has announced.
With a 1.0-litre EcoBoost petrol engine paired with a 125bhp electric motor driving the front wheels, the Ford Transit PHEV officially returns 91.7mpg and has CO2 emissions of 60g/km.
A full charge of the 13.6kWh battery should take less than three hours using a standard home wallbox, while normal three-pin supply will do the same in under five hours.
The van's charging port is located inside the front bumper. Up to 35 miles of electric range is promised, although the engine can be used as a range extender to top-up the battery on the move.
With the battery located under the floor, the Transit Custom Plug-In Hybrid's cargo volume of 6.0m³ remains unchanged. The maximum payload is given as 1,130kg.
The entry-level trim is called Leader, with the mid-range Trend and top-spec Limited variants priced from £40,595 and £42,950 respectively. All prices exclude VAT.
There are four driving modes: EV Auto, EV Now, EV Later and EV Charge. EV Auto lets the vehicle work out the most efficient mix of battery and petrol power, while EV Now forces the van to use all of the available charge. EV Later allows you to save the battery for later in a journey, while EV Charge uses the engine to top up the battery on the move.
Regenerative braking also helps recycle electricity back into the battery, with two levels of braking force to choose from.
To help companies comply with increasingly common low-emissions zones – such as the London ULEZ – drivers can use the Transit's geofencing technology to pre-programme areas where EV Now mode must be used.
You can remotely view the amount of charge available using the FordPass smartphone app, and in 2020 the FordPass Pro app will be able to do this for up to five vehicles; a useful feature for fleet operators. Ford has also partnered with NewMotion to give drivers "simplified access" to 118,000 charging points across Europe.
Order books for the Transit hybrid are open now, with the first deliveries due before the end of the year. Ford says the battery is covered by an eight-year/100,000-mile warranty.
Earlier this year, DrivingElectric had the chance to sample an early prototype version of the Transit Custom PHEV.
The company has also confirmed a plug-in hybrid version of the Tourneo Custom minibus. It uses the same powertrain as the Transit Custom PHEV, returning 79.1mpg, CO2 emissions of 70g/km and 33 miles of electric range.
It's capable of seating up to eight people, and the second and third rows can be arranged in 'conference format' or in a straightforward, front-facing arrangement. The vehicle is aimed at executive shuttle service operators, such as those running from airports and hotels.
New Ford E-Transit van: 2024 updates to save 20 seconds on every delivery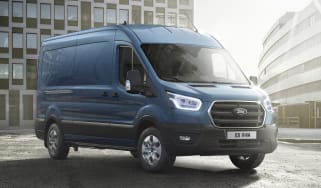 New Ford E-Transit van: 2024 updates to save 20 seconds on every delivery
New electric vans arriving in 2023 and beyond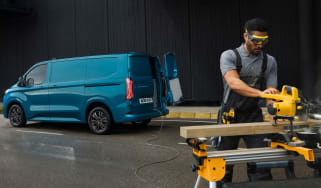 New electric vans arriving in 2023 and beyond
Top 10 best electric vans 2023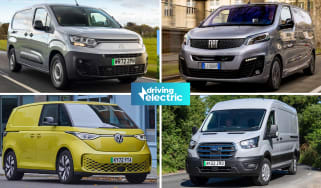 Top 10 best electric vans 2023
Electric Renault 5: prices, 2024 launch date and teaser images of the MINI Cooper rival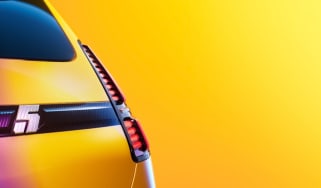 Electric Renault 5: prices, 2024 launch date and teaser images of the MINI Cooper rival
New official teaser pictures for Renault's electric supermini confirm the 5's reveal in February 2024
Big price cut: Electric Renault Megane prices slashed in time for Christmas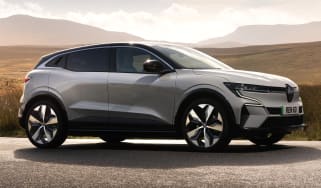 Big price cut: Electric Renault Megane prices slashed in time for Christmas
Renault Megane E-Tech gets a price drop of up to £3,500, bringing the starting price to just £34,495