Ford Mustang Mach-E electric police-car concept unveiled
Several police forces across the UK have already shown interest in adding the electric coupe-SUV to their fleets
The Ford Mustang Mach-E is the latest electric car to be fitted with blues and twos. A concept police-car version has just been unveiled – and it could be appearing on police force fleets across the UK in the near future.
The prototype is on display at the Emergency Services Show at the NEC in Birmingham. While it remains a concept for now, Ford says that a number of British police services, including London's Metropolitan Police and Police Scotland, have already shown an interest in the car. The initial demonstrator model features the 'Standard Range AWD' powertrain, which produces 266bhp and can cover up to 249 miles on a charge.
However, subject to testing of the prototype, Ford is planning to offer police forces Mach-Es with the larger Extended Range battery, in both rear and all-wheel-drive configurations. With the larger battery, the Mach-E will reach up to 379 miles and gets a slight power increase – to 290bhp for rear-drive models and 346bhp for four-wheel-drive versions.
There'll also be a performance option, which will equip the police Mach-E with the same powertrain as the top-of-the-range GT model, which pumps out 480bhp from its dual-motor setup for a 0-62mph time of 3.7 seconds: suitable figures for use in high-speed pursuit or motorway traffic policing.
Importantly, the blue lights don't run off the main battery used for driving the Mach-E; instead, they're fed from the regular 12V battery. Ford says it plans to increase the capacity of that battery to handle additional equipment.
The new Mach-E police car concept is the latest in a string of electric cars being outfitted for use by emergency services, with previous examples including the Tesla Model 3 and Skoda Enyaq iV.
Smart #3 review: a compact coupe-SUV with Big Brother watching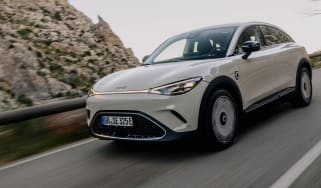 Smart #3 review: a compact coupe-SUV with Big Brother watching
First contact: facelifted Kia EV6 will look even more like a UFO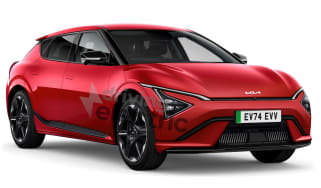 First contact: facelifted Kia EV6 will look even more like a UFO
Electric Renault 5: prices, 2024 launch date and teaser images of the MINI Cooper rival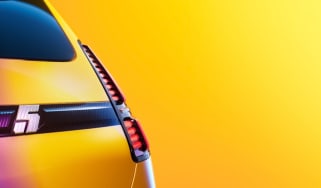 Electric Renault 5: prices, 2024 launch date and teaser images of the MINI Cooper rival
New official teaser pictures for Renault's electric supermini confirm the 5's reveal in February 2024
Big price cut: Electric Renault Megane prices slashed in time for Christmas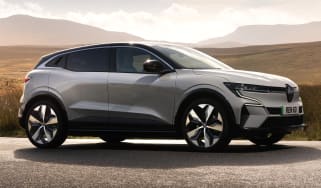 Big price cut: Electric Renault Megane prices slashed in time for Christmas
Renault Megane E-Tech gets a price drop of up to £3,500, bringing the starting price to just £34,495