Electric Fords to come with wallbox and energy bundle
Ford partners with Centrica to create bespoke package for electric-car drivers, including wallbox charger and energy tariff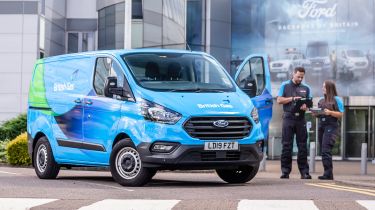 Buyers of electrified Fords – encompassing the brand's future plug-in hybrid and battery-electric vehicles – will be offered a wallbox charger and a custom energy deal, the company has announced.
Ford has partnered with Centrica to deliver the package across its UK dealership network, as it prepares to offer an electrified version of every model in its line-up.
Centrica will ensure there's an approved installation process for home chargers, while an energy deal from British Gas should allow electric-car drivers to save money by charging their vehicles overnight, when electricity tends to be cheaper.
"Ford is committed to delivering one of the most comprehensive line-ups of electrified vehicles for our customers, powered through the Ford home charger wallboxes," Ford of Britain's managing director Andy Barratt said.
"With [Centrica]'s scale, experience and access to the electric grid, our partnership will enable us to offer a one-stop shop for our customers as they transition to an electrified vehicle, including exciting new vehicle options, wallbox, installation service and electricity tariff."
Sarwjit Sambhi, CEO of Centrica Consumer, added: "We're committed to helping our customers to make the transition to a lower-carbon future and are proud to be supporting Ford with the launch of their new electric-vehicle range.
"I believe we are uniquely positioned to help customers at home and in business to make the shift to electric vehicles, harnessing the power of our global network of over 13,000 technicians and engineers to deliver solutions that are simpler, faster and more affordable for consumers."
Ford's commitment to offering an electrified version of every vehicle it sells depends on mild-hybrid technology: the popular Ford Fiesta supermini and Ford Focus hatchback will be among the first to benefit later this year.
An electric SUV with 370 miles of range and performance to match the firm's Mustang muscle car is due in late next year, while an all-electric Transit van is set to be revealed in 2021.
Meanwhile, the company is working on "at least one high-volume" electric vehicle, having bought access to Volkswagen's MEB electric-car platform in a deal announced earlier this month.
Iconic Ford Capri to be reborn as all-electric coupe-SUV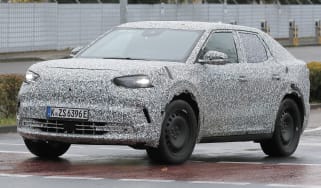 Iconic Ford Capri to be reborn as all-electric coupe-SUV
Ford Explorer: Volkswagen ID.4 rival delayed to meet safety regulations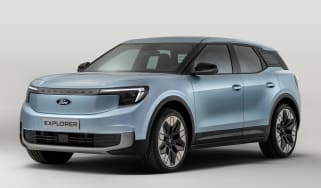 Ford Explorer: Volkswagen ID.4 rival delayed to meet safety regulations
New 2024 Ford E-Tourneo Courier is an electric lifestyle MPV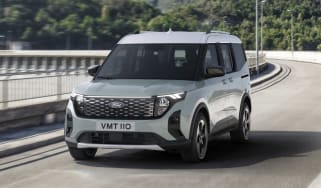 New 2024 Ford E-Tourneo Courier is an electric lifestyle MPV
MINI Cooper Electric: pricing and specs for British-built electric supermini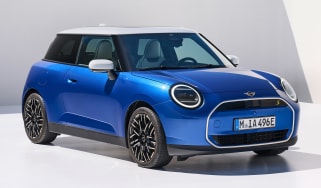 MINI Cooper Electric: pricing and specs for British-built electric supermini
MINI's latest electric hatchback introduces a revolutionary interior design, as well as larger batteries to provide a 250-mile range
Tesla Cybertruck: pricing and specs for Elon Musk's electric pickup truck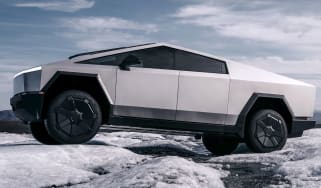 Tesla Cybertruck: pricing and specs for Elon Musk's electric pickup truck
The Tesla pickup truck is now on sale, with a range of up to 340 miles and a starting price of just over $60,000
Electric Renault 5: prices, 2024 launch date and teaser images of the MINI Cooper rival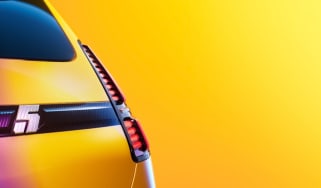 Electric Renault 5: prices, 2024 launch date and teaser images of the MINI Cooper rival
New official teaser pictures for Renault's electric supermini confirm the 5's reveal in February 2024